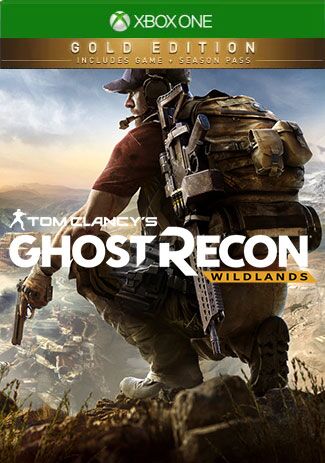 Xbox One Tom Clancy's Ghost Recon Wildlands Gold Edition (Xbox One Download Code)
Buy Tom Clancy's Ghost Recon Wildlands Gold Edition (Xbox One) Game Key
Buy Tom Clancy's Ghost Recon Wildlands Gold Edition (Xbox One) game code and get your key for activation within minutes via email! Use the key to access your highspeed download of your received game. Don't miss out this offer.
About This Game
Now includes the Ghost War PVP Mode!
Try Ghost Recon Wildlands now for free! Get access to up to 5 hour of gameplay and take on the Santa Blanca Cartel, alone or with friends.
Tom Clancy's Ghost Recon® Wildlands is the very first military shooter in a massive open world that you can play entirely solo or in four-player co-op.
TAKE DOWN THE CARTEL
A few years from now, Bolivia has become the largest cocaine producer in the world. The Santa Blanca cartel has turned the country into a narco-state. As a Ghost, you must stop the cartel by any means necessary.
BECOME A GHOST
Create and fully customize your Ghost, weapons, and gear. Enjoy a total freedom of playstyle. Lead your team and take down the cartel, either solo or with up to three friends.
EXPLORE BOLIVIA
Journey through Ubisoft's largest action-adventure open world. Discover the stunning diverse landscapes of the Wildlands both on and off road, in the air, on land, and at sea with over 60 different vehicles.
Gold Edition includes the base game, Season Pass subscription, and all Deluxe Edition content, including:
- Huntsman rifle and motorbike
- 3 emblems
- 3 weapon camos
- 3 character customization items
- XP booster