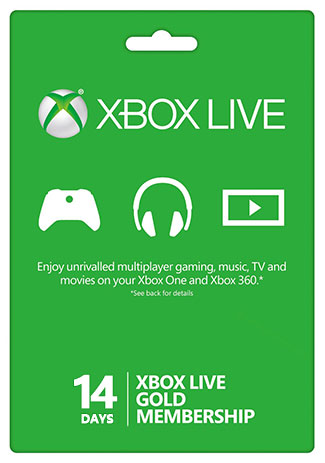 Xbox Live 14 Days Gold Membership Trial Card
Xbox Live 14 Days Gold Membership Trial Card
Buy the Xbox Live 14 Days Gold Membership Trial Card and get your Key for Xbox Xbox 360/ One activation within minutes via email! Please check the spam or junk mail folder too. Use the key to access the Xbox Live Gold Membership. Don't miss out this offer, buy the Xbox Live 14 Days Gold Membership Trial Card now!
---
About this Product
Download top up-to-date online content - fast and comfortable - and pay with the Membership Xbox 360 Live Gold - 14 Days Card.
The Membership Xbox 360 Live Gold - 14 Days Card is an easy-to-use payment method for premium content at the Xbox Live market place - from Arcade Games up to Movie Highlights.
After payment has been completed you will receive the code via email, so please check the correct spelling of your email address and have a look into your spam filter of your provider.
If we cannot deliver within seven days, we will refund your payment in total.
Shipping - You will get your code (key) by Email. We will not send CDs or manuals by mail, just send the code.
---
What kind of Xbox Live Gold trials are eligible?
You're eligible if you're on an Xbox Live Gold one-month free trial.
If you're on a 14-day prepaid code trial, you're not eligible. You must have a current Xbox Live Gold subscription or trial that requires a credit card.

Xbox LIVE Gold Membership Redemption
Redeem your Membership Card on your Xbox 360 Console:
1. Sign into Xbox LIVE.
2. Click the Xbox Guide button located in the center of the controller.
3. Navigate to the Marketplace tab. Select Redeem Code.
4. Enter your 25 digit pre-paid code and enjoy!

Redeem your Membership Card on your computer:
1. From Xbox.com, use your Windows LIVE ID to sign in to your Xbox LIVE account.
2. Select My Account from the My Xbox drop-down menu.
3. Click Redeem Code to enter the pre-paid code for the content that you want to redeem.
4. Follow the instructions that appear on the screen to enter and confirm the redemption on the pre-paid code.