Arma 2: British Armed Forces (DLC)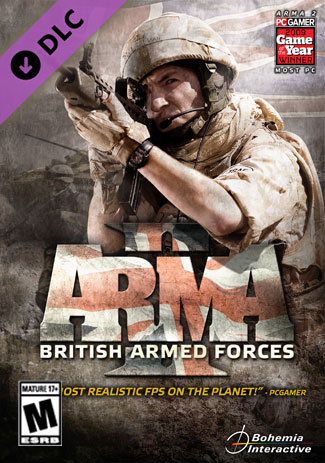 This content requires the base game Arma 2: Operation Arrowhead in order to play.
Buy Arma 2: British Armed Forces Game Key
Buy Arma 2: British Armed Forces game code and get your key for Steam activation within minutes via email! The key will be sent via eMail. Please check the spam or junk mail folder too. Use the key to access your highspeed download of your received game. Don't miss out this offer.
---
About This DLC
New vehicles and weapons
Modern British troops in multi-terrain, desert and woodland camouflage
Personal weapons: L85A2 and L86A2 rifles, L110A1 machine gun, LRR and AW50 sniper rifles, N-LAW AT launcher
New vehicles: Jackal 2 WMIK all-terrain vehicle, modernized FV510 Warrior
New helicopters: AH11 Wildcat (multi-role), HC3 Merlin (transport)
British versions: offroad car, Chinook transport helicopter, AH-64 Apache gunship
Desert and woodland paint schemes of the ground vehicles
New singleplayer campaign
Player will command a mobile observation team of British troops into battle with the Takistani insurgents. Short campaign will be focused on depicting the assymetrical warfare with a guerilla force and the counterinsurgency operations.
Multiplayer modes
Cooperative scenarios featuring all the British units, vehicles and equipment.
---
System Requirements
MINIMUM:
OS:

Windows XP or Windows Vista

Processor:

Intel Core 2.4 GHz or AMD Dual-Core Athlon 2.5 GHz

Memory:

1GB

Graphics:

Nvidia Geforce 8600GT or ATI Radeon 3650 or faster with Shader Model 3 and 512 MB VRAM

DirectX®:

DirectX 9.0c

Hard Drive:

10 GB free space