ARMA 3 / ArmA III (PC)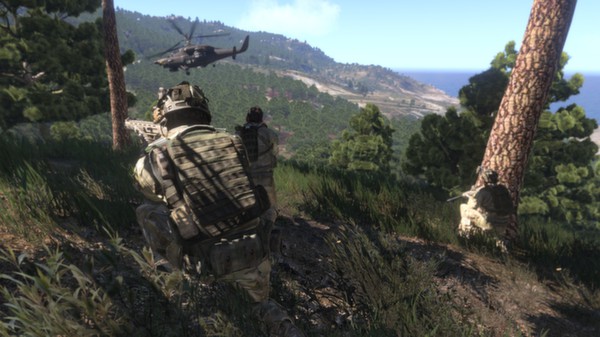 Platform:
About ARMA 3 / ArmA III (PC) Game Key
Experience true combat gameplay in a massive military sandbox. Deploying a wide variety of single- and multiplayer content, over 20 vehicles and 40 weapons, and limitless opportunities for content creation, this is the PC's premier military game. Authentic, diverse, open - Arma 3 sends you to war.
Defeat your enemy on a richly detailed, open-world battlefield – stretching over 290 km² of Mediterranean island terrain. From expansive cities to rolling hills, whether steamrolling your tank across the dusty plains, flying a transport helicopter over the dense forests, or waging asymmetric warfare from the rocky hills, the islands of Altis and Stratis are dynamic worlds, which lend themselves to the most varied engagements in gaming.
Head into combat on foot, drive armored vehicles, or take to the skies in helicopters and jets. Conduct a combined arms attack over air, land, and sea, with over 20 vehicles to drive and pilot, 40+ weapons to pick from, customizable loadouts with short- and long-distance attachments, and various types of gear to suit your needs on the battlefield.
Follow the story of Ben Kerry, a soldier who gets caught up in a Mediterranean flashpoint, across three gameplay-driven campaign episodes: Survive, Adapt, Win. Immerse yourself in Arma 3's diverse gameplay by completing the focused showcase scenarios. Run through the competitive firing drills to hone your shooting and movement skills, and complete your training by signing up to Arma 3 Bootcamp, which features SP and MP tutorials, and a dedicated Virtual Reality practice environment.
Then, once you have your singleplayer fill, head over to multiplayer to see how Arma 3's world allows you even more freedom. Team up with friends and players online to form squads that'll allow you play Defend and Seize modes. Or, you can play the modes created by other players and see what the minds of the gamers can come up with.
Or, if you want to create your own scenarios, go and do it! There's a fully detailed editor just waiting to be played it. See where your mind goes, then upload it so others can try it out.
Make Arma Not War Contest


Take part, win huge prizes, and enjoy heaps of player-created content!