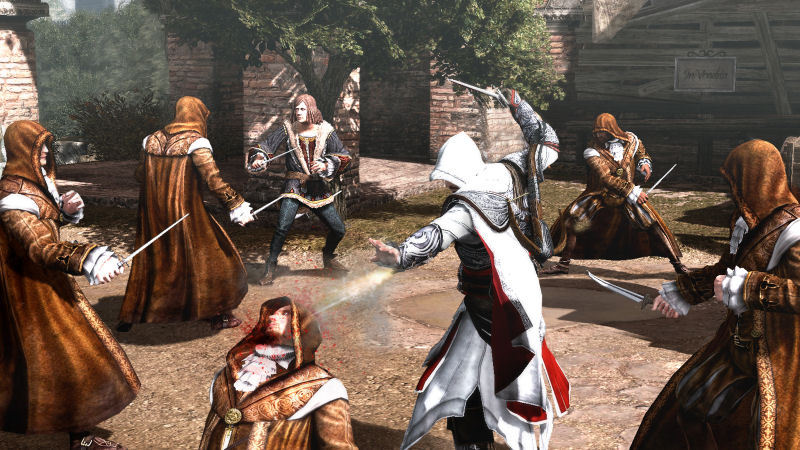 Assassin's Creed Brotherhood Deluxe Edition
Availability

Out of Stock
Extra content included in the Deluxe Edition:
---
2 Exclusive Single-Player Maps
- Single-Player indoor map: The Trajan Market
- Single-Player outdoor map: The Aqueduct


2 Multiplayer Characters: The Harlequin & The Officer
- The Officer - Death's Finest Ally: Few have seen him. Even fewer have lived to tell about it. Fear is his friend, and Death is his ally.
- The Harlequin - The Walking Nightmare: Behind the gaudy costume and twisted smile lies the soul of a merciless Assassin.


1 Ezio Skin: Helmschmied Drachen Armor
- Fashioned by the Helmschmied Armory in 1489, only a few sets were completed due to the weight of the metal. Very few men proved strong enough to wear it.


The Original Codex Written by Alta??r (PDF)
- Take a closer look at the history of the Assassins and art of Assassin?s Creed Brotherhood.


Multiplayer Characters Collectible Trading Cards (PDF)
- A set of trading cards featuring all the characters of Assassin's Creed Brotherhood Multiplayer, including their kill moves and biographies.


Map of Rome (PDF)


Assassin?s Creed Lineage : The Complete Movie
- Explore the events that revolve around Ezio?s father, Giovanni Auditore da Firenze, and gain insight on the Assassin?s Creed story and universe.


Making-Of Assassin?s Creed Brotherhood : Behind the Brotherhood
- Go behind the scenes with the development team to learn about how the game was made and Ezio?s continuing story.


Game Soundtrack (MP3)
- 22 songs from the original game soundtrack by Jesper Kyd.

Bonus Content: 3 DLC for free
---
Animus Project Update 1.0 - Multiplayer DLC
Animus Project Update 2.0 - Multiplayer DLC
The Da Vinci Disappearance - Single & Multiplayer DLC
ABOUT THE GAME
---
Live and breathe as Ezio, a legendary Master Assassin, in his enduring struggle against the powerful Templar Order. He must journey into Italy?s greatest city, Rome, center of power, greed and corruption to strike at the heart of the enemy.
Defeating the corrupt tyrants entrenched there will require not only strength, but leadership, as Ezio commands an entire Brotherhood who will rally to his side. Only by working together can the Assassins defeat their mortal enemies.
And for the first time, introducing a never-before-seen multiplayer layer that allows you to choose from a wide range of unique characters, each with their own signature weapons and assassination techniques, and match your skills against other players from around the world.
It?s time to join the Brotherhood.
KEY FEATURES
---
MASTER THE POSSIBILITIES ᄀᄚ As Ezio, a legendary Master Assassin, experience over 15 hours of single-player gameplay set in the living, breathing, unpredictable city of Rome.
LEAD A LEGENDARY BROTHERHOOD ᄀᄚ Recruit and train promising young Assassins. Deploy them across the city as you see fit, or call upon them to aid you in your quests.
EXPERIENCE A RICH HISTORICAL TAPESTRY ᄀᄚ Collaborate with real historical characters such as Leonardo da Vinci, Niccolo Machiavelli and Caterina Sforza.
WIN THE HEART OF A CITY ᄀᄚ Use your hard-won currency to revitalize the crumbling capital city. Rally the citizens to your cause and unlock extra factions and missions.
DEPLOY SECRET WEAPONS ᄀᄚ Swiftly eliminate your enemies using tools such as poison darts, parachutes, double hidden blades, hidden guns, and an advanced flying machine at your disposal.
MEMORABLE MULTIPLAYER ᄀᄚ Choose from multiple authentic character classes, each with their own signature weapons and killing moves. With richly-detailed maps and a wide variety of unique multiplayer modes, you?ll never fight the same way twice.
SYSTEM REQUIREMENTS
---
Minimum:
SUPPORTED OS: Windows? XP (32-64 bits) /Windows Vista?(32-64 bits)/Windows 7? (32-64 bits)
Processor: Intel Core? 2 Duo 1.8 GHZ or AMD Athlon X2 64 2.4GHZ
RAM: 1.5 GB Windows? XP / 2 GB Windows Vista? - Windows 7?
Video Card: 256 MB DirectX? 9.0ᄀᄚcompliant card with Shader Model 3.0 or higher (see supported list)
Sound Card: DirectX 9.0 ᄀᄚcompliant sound card
DirectX Version: DirectX 9.0
Hard Drive Space: 8 GB
Peripherals Supported: Keyboard, mouse, optional controller
Recommended:
Processor: Intel Core? 2 Duo E6700 2.6 GHz or AMD Athlon 64 X2 6000+ or better
Video Card: GeForce 8800 GT or ATI Radeon HD 4700 or better
Sound: 5.1 sound card
Peripherals: Keyboard, mouse, joystick optional (Xbox 360? Controller for Windows recommended)
ded)
* This product does not support Windows? 98/ME/2000/NT
** Supported Video Cards at Time of Release:
ATI? RADEON? HD 2000/3000/4000/5000/6000 series
NVIDIA GeForce? 8/9/100/200/300/400/500 series
? 2010 Ubisoft Entertainment. All Rights Reserved. Assassin?s Creed, Ubisoft and the Ubisoft logo are trademarks of Ubisoft Entertainment in the U.S. and/or other countries.."PlayStation" is a registered trademark of Sony Computer Entertainment Inc. Microsoft, Xbox, Xbox 360, Xbox LIVE, and the Xbox logos are trademarks of the Microsoft group of companies and are used under license from Microsoft. Software platform logo (TM and ?) EMA 2006.