Assassin's Creed II - Digital Deluxe Edition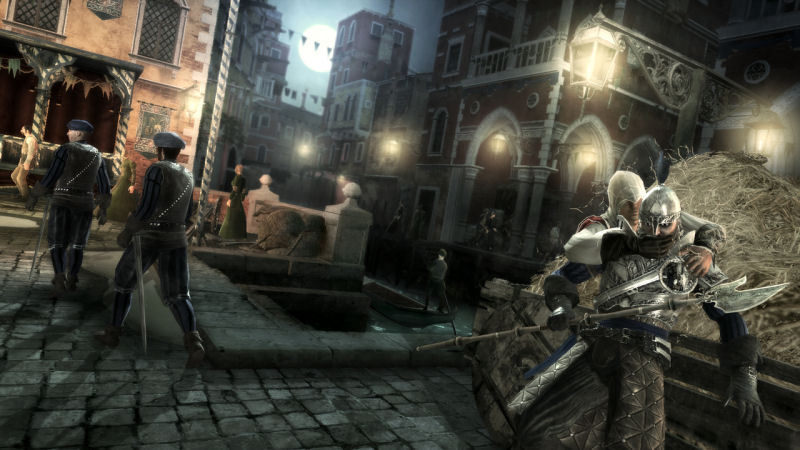 DELUXE EDITION
---
3 bonus maps :
Palazzo Medicci
Santa Maria Del Frari
Arsenal Shipyard
ABOUT THE GAME
---
I will seek vengeance upon those who have betrayed my family. Only to uncover a conspiracy bigger than i could have imagined. I am Ezio Auditore Da Firenze, i am an assassin.
KEY FEATURES
---
A wide variety of missions, and a new range of weaponary including gadgets designed by the legendary Leonardo Da Vinci.:


Use new assassins skills and allies to defeat your enemies.:


Experience open world gameplay Experience
SYSTEM REQUIREMENTS
---
Minimum:
SUPPORTED OS: Windows? XP (32-64 bits) / Windows Vista?(32-64 bits) / Windows 7?(32-64 bits)
PROCESSOR: Intel Core? 2 Duo 1.8 GHZ or AMD Athlon X2 64 2.4GHZ
RAM: 1.5 GB Windows? XP / 2 GB Windows Vista? - Windows 7?
VIDEO CARD: 256 MB DirectX? 9.0-compliant card with Shader Model 3.0 or higher (see supported list)
SOUND CARD: DirectX 9.0-compliant sound card
DIRECTX VERSION: DirectX 9.0
HARD DRIVE SPACE: 8 GB
PERIPHERALS SUPPORTED: Keyboard, mouse, optional controller
* This product does not support Windows? 98 / ME / 2000 / NT
Recommended:
PROCESSOR: Intel Core? 2 Duo E6700 2.6 GHz or AMD Athlon 64 X2 6000+ or better
VIDEO CARD: GeForce 8800 GT or ATI Radeon HD 4700 or better
SOUND: 5.1 sound card
PERIPHERALS: Keyboard, mouse, joystick optional (Xbox 360? Controller for Windows recommended).
*SUPPORTED VIDEO CARDS AT TIME OF RELEASE:
ATI? RADEON? X1950, HD 2000/3000/4000/5000 series
NVIDIA GeForce? 7/8/9/100/200 series
Laptop models of these cards may work but are not supported. These chipsets are the only ones that will run this game.
A permanent high speed internet connection and creation of a ubisoft account are required to play this video game at all times and to unlock exclusive contents. such contents may only be unlocked one single time with a unique key.