Assassin's Creed Revelations - Mediterranean Traveler Map Pack (DLC 2)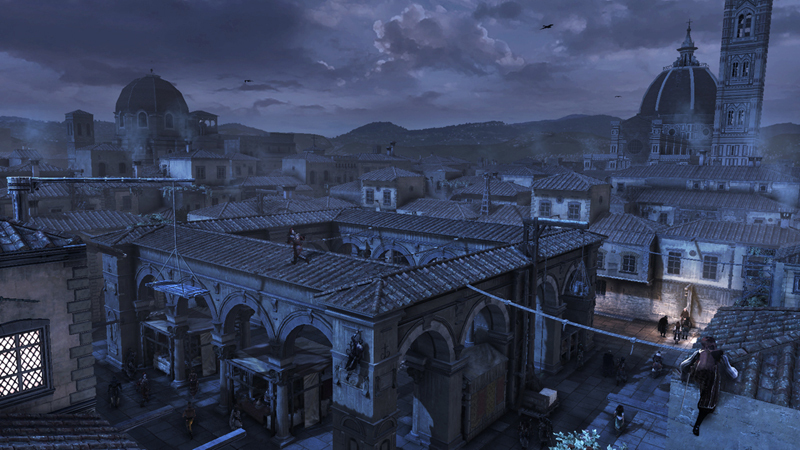 NOTICE: In order to get this expansion to work, you need the original game of Assassin?s Creed Revelations
Mediterranean Traveler Map Pack
---
Download the Assassin?s Creed Revelations ?Maps Packン and get 6 multiplayer maps, including 3 new locations (Jerusalem, Imperial and Dyers) and 3 maps from Assassin's Creed Brotherhood (Siena, Firenze and San Donato). The Maps Pack DLC also includes new customization items for your characters and Templar Profile and 6 new Trophies.
The Mediterranean Traveler Map Pack extends the Assassin?s Creed? Revelations Multiplayer experience with the addition of 6 multiplayer maps, each introducing new gameplay opportunities through their varied terrains, perches and hideouts. This all new downloadable content also comes with a new collection of Achievements and Trophies for those that want to try their hand at kills and escapes that are as impressive as they are effective. Journey to the majestic holy city of Jerusalem, the opulent Imperial District of Constantinople, and the colorful mercantile district of Dyers.
Revisit your favorite Italian Renaissance maps from Assassin?s Creed? Brotherhood, starting with the historic city of Firenze, traveling to the mountain sides of San Donato, and to night time Siena with its carnival lights, talented performers and deadly hiding spots. Give all your multiplayer characters some personal style with bonus multiplayer customization items, also included in the pack.
System Requirements
---
Minimum:
OS : Windows? XP SP3 / Windows Vista? SP2 /Windows 7? SP1
CPU: Intel Core?2 Duo E4300 @ 1.8 Ghz or AMD Athlon64 X2 4600+ @ 2.4GHZ
RAM: 1.5 GB Windows? XP / 2 GB Windows Vista? - Windows 7?
GPU: 256 MB DirectX? 9.0ᄀᄚcompliant card with Shader Model 3.0 or higher (see supported list)
Sound Card: DirectX 9.0 ᄀᄚ compliant sound card
DirectX Version: DirectX? June2010 or newer (libraries included on disc)
HDD: 12 GB
Peripherals Supported: Keyboard, mouse, optional controller
Others: Temporary broadband connection required for one-time product registration at first launch, permanent broadband connection required for multi-player.
* This product does not support Windows? 98/ME/2000/NT
Recommended:
CPU: Intel Core?2 Duo E6700 @ 2.6 GHz or AMD Athlon64 X2 6000+ @ 3.0Ghz or better
GPU: 512 MB DirectX? 9.0 ᄀᄚ compliant card with Shader Model 5.0 or higher (see supported list)
Sound: Surround Sound 5.1 capable sound card
Peripherals: Keyboard, mouse, joystick optional (Xbox 360? Controller for Windows recommended)
Supported Video Cards at Time of Release:

AMD? Radeon? HD2000/3000/4000/5000/6000 desktop series
nVidia GeForce? 8/9/GT200/GT400/GT500 desktop series
Laptop versions of these cards may work but are NOT supported. These chipsets are the only ones that will run this game. For the most up-to-date minimum requirement listings, please visit the FAQ for this game on our support website at http://support.ubi.com.
---
? 2011 Ubisoft Entertainment. All Rights Reserved. Assassin?s Creed, Ubisoft, and the Ubisoft logo are trademarks of Ubisoft Entertainment in the U.S. and/or other countries. ?PlayStationン and the ?PSン Family logo are registered trademarks and ?PS3ン and the PlayStation Network logo are trademarks of Sony Computer Entertainment Inc. KINECT, Xbox, Xbox 360, Xbox LIVE, and the Xbox logos are trademarks of the Microsoft group of companies and are used under license from Microsoft.