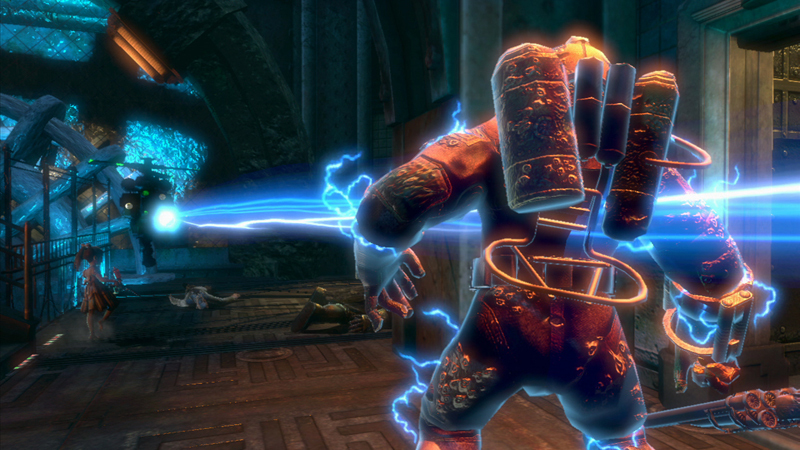 BioShock Triple Pack
NOTICE: Activation key must be used on a valid Steam account. Requires internet connection.
BIOSHOCK TRIPLE PACK
---
BioShock
BioShock 2
BioShock Infinite
BIOSHOCK
---
BioShock is the ?genetically enhancedン first person shooter where you can turn everything into a weapon: the environment, your body, fire and water, and even your worst enemies.
You are a cast-away in Rapture, an underwater Utopia torn apart by civil war. Caught between powerful forces, and hunted down by genetically modified ?splicersン and deadly security systems, you have to come to grips with a deadly, mysterious world filled with powerful technology and fascinating characters. No encounter ever plays out the same, and no two gamers will play the game the same way.
KEY FEATURES
---
Take control of your world by hacking mechanical devices, commandeering security turrets and crafting unique items critical to your very survival.
Upgrade your weapons with ionic gels, explosives and toxins to customize them to the enemy and environment.


Genetically modify your body through dozens of Plasmid Stations scattered throughout the city, empowering you with fantastic and often grotesque abilities.


Experience truly next generation graphics that vividly illustrate the forlorn art deco city, highlighted by the most detailed and realistic water effects ever developed in a video game.


Make meaningful choices and mature decisions, ultimately culminating in the grand question: do you exploit the innocent survivors of Rapture or save them?
BIOSHOCK 2
---
Set approximately 10 years after the events of the original BioShock, the halls of Rapture once again echo with sins of the past. Along the Atlantic coastline, a monster has been snatching little girls and bringing them back to the undersea city of Rapture. Players step into the boots of the most iconic denizen of Rapture, the Big Daddy, as they travel through the decrepit and beautiful fallen city, chasing an unseen foe in search of answers and their own survival.
Multiplayer in BioShock 2 will provide a rich prequel experience that expands the origins of the BioShock fiction. Set during the fall of Rapture, players assume the role of a Plasmid test subject for Sinclair Solutions, a premier provider of Plasmids and Tonics in the underwater city of Rapture that was first explored in the original BioShock. Players will need to use all the elements of the BioShock toolset to survive, as the full depth of the BioShock experience is refined and transformed into a unique multiplayer experience that can only be found in Rapture.
Updated Notes
This bundle also includes
the Sinclair Solutions Test Pack,
Rapture Metro Map Pack,
Kill ?em Kindly, Zigo & Blanche multiplayer characters, and The Protector Trials.
KEY FEATURES
---
Single-player Features
Evolution of the Genetically Enhanced Shooter: Innovative advances bring new depth and dimension to each encounter. New elements, such as the ability to dual-wield weapons and Plasmids, allow players to create exciting combination's of punishment Return to Rapture: Set approximately 10 years after the events of the original BioShock, the story continues with an epic, more intense journey through one of the most captivating and terrifying fictional worlds ever created.
You are the Big Daddy: Take control of BioShock?s signature and iconic symbol by playing as the Big Daddy, and experience the power and raw strength of Rapture?s most feared denizens as you battle powerful new enemies Continuation of the Award-Winning Narrative: New and unique storytelling devices serve as the vehicle for the continuation of one of gaming?s most acclaimed storylines.
The Protector Trials: You receive the call: Tenenbaum desperately needs you to steal as much ADAM as possible, to help thwart Sofia Lamb's insane plan. Enter the Protector Trials: frantic combat challenges designed to push your mastery of weapons and Plasmids to the limit. The goal in each Trial is simple: get your Little Sister to an ADAM-rich corpse and keep her safe while she gathers precious ADAM. Opposition mounts as your Little Sister nears her goal -- will you survive the onslaught? Each Trial features three unique weapon and Plasmid load-outs, keeping the challenge fresh, as well as a fourth bonus load-out the player receives when all previous load-outs are completed.
Multiplayer Features
Genetically Enhanced Multiplayer: Earn experience points during gameplay to earn access to new Weapons, Plasmids and Tonics that can be used to create hundreds of different combinations, allowing players to develop a unique character that caters to their playing style. Experience Rapture?s Civil War: Players will step into the shoes of Rapture citizens and take direct part in the civil war that tore Rapture apart.
See Rapture Before the Fall: Experience Rapture before it was reclaimed by the ocean and engage in combat over iconic environments in locations such as Kashmir Restaurant and Mercury Suites, all of which have been reworked from the ground up for multiplayer. FPS Veterans Add Their Touch to the Multiplayer Experience: Digital Extremes brings more than 10 years of first person shooter experience including development of award-winning entries in the Unreal? and Unreal Tournament? franchise.
Sinclair Solutions Tester Pack: Opportunity Awaits! Expand your BioShock 2 multiplayer experience with a rank increase to 50 with Rank Rewards including a 3rd set of weapons upgrades. Plus, enjoy 20 new Trials, 2 new playable characters and 5 new Masks. Yes! We?d thought you?d like the sound of that! Rapture Metro: As one of our valued Sinclair Solutions testers, we specially invite you to enjoy the pleasure of Rebirth! But only if you are truly dedicated and fully ranked up. However all testers are eligible for the 6 new maps in Rapture Metro. What?s your golf handicap? Take this chance to turn your handicap into your enemy?s with this fresh melee mode where every blunt object is a golf club. No putting.
Zigo & Blanche: Enroll in Sinclair Solution?s Consumer Rewards Program with two new characters for the BioShock 2 Multiplayer experience: Mlle Blanche de Glace, the internationally acclaimed actress, or Zigo D?Acosta, one of Rapture?s great sailors. Get out there and start earning those rewards!
BIOSHOCK INFINITE
---
Welcome To Columbia
The year is 1912.
With the United States emerging as a world power, the floating City of Columbia is a mighty symbol of American ideals, launched with great fanfare to the cheers of a captivated public. But what begins as an endeavour of hope soon turns to disaster, as the city disappears into the clouds, its whereabouts unknown. The greatest accomplishment in American history has vanished without a trace.
The player assumes the role of former Pinkerton agent Booker DeWitt, sent to Columbia to rescue Elizabeth, a young woman imprisoned there since childhood. He will develop a relationship with Elizabeth, augmenting his abilities with hers so the pair may escape from a city that is literally falling from the sky. DeWitt will learn to fight foes in high-speed Sky-Line battles, engage in combat both indoors and amongst the clouds, and harness the power of dozens of new weapons and abilities.
SYSTEM REQUIREMENTS
---
BioShock
Minimum:
Operating System: Windows XP (with Service Pack 2) or Windows Vista
CPU: Intel single-core Pentium 4 processor at 2.4GHz
System RAM: 1 GB
Video Card: Direct X 9.0c compliant video card with 128MB RAM and Pixel Shader 3.0 (NVIDIA 6600 or better/ATI X1300 or better, excluding ATI X1550)
Sound Card: 100% direct X 9.0c compatible sound card
8GB of free hard drive space
Recommended:
CPU: Intel Core 2 Duo processor
System RAM: 2GB
Video Card: DX 9 - Direct X 9.0c compliant video card with 512 MB RAM and Pixel Shader 3.0 (NVIDIA GeForce 7900 GT or better), DX 10 - NVIDIA GeForce 8600 or better
Sound Card: SoundBlaster(r) X-Fi(tm) series (optimized foruse with Creative Labs EAX ADVANCED HD 4.0 or EAX ADVANCED HD 5.0
compatible sound cards)
BioShock 2
Minimum:
OS: Windows XP, Vista, Windows 7/ Windows 8
Processor: AMD Athlon 64 Processor 3800+ 2.4Ghz or better, Intel Pentium 4 530 3.0Ghz Processor or better
Memory: 2GB
Graphics: NVIDIA 7800GT 256MB graphics card or better, ATI Radeon X1900 256MB graphics card or better
DirectX?: DirectX 9.0c
Hard Drive: 11GB
Sound: 100% DirectX 9.0C compliant sound card or onboard sound
Other Requirements: Initial installation requires one-time internet connection; software installations required including Microsoft Visual C++2008 Runtime Libraries, Microsoft DirectX.
Recommended:
Processor: AMD Athlon 64 X2 5200+ Dual Core 2.60Ghz, Intel Core 2 Duo E6420 Dual Core 2.13Ghz
Memory: 3GB
Graphics: NVIDIA 8800GT 512MB graphics card or better, ATI Radeon HD4830 512MB graphics card or better
BioShock Infinite
Minimum
OS: Windows Vista Service Pack 2 32-bit
Processor: Intel Core 2 DUO 2.4 GHz / AMD Athlon X2 2.7 GHz
Memory: 2 GB
Hard Drive: 20 GB free
Video Card: DirectX10 Compatible ATI Radeon HD 3870 / NVIDIA 8800 GT / Intel HD 3000 Integrated Graphics
Video Card Memory: 512 MB
Sound Card: DirectX Compatible
Recommended
OS: Windows 7 Service Pack 1 64-bit
Processor: Quad Core Processor
Memory: 4 GB
Hard Drive: 30 GB free
Video Card: DirectX11 Compatible, AMD Radeon HD 6950 / NVIDIA GeForce GTX 560
Video Card Memory: 1024 MB
Sound Card: DirectX Compatible
OTHER REQUIREMENTS & SUPPORTS
Initial installation requires one-time broadband internet connection for Steam authentication and Platform Update For Windows Vista (KB 971644 required on Vista only for DirectX 11); software installations required (included with the game) include Steam Client, Microsoft DirectX Runtime, Microsoft Visual C++ Redistributable 2008 SP1, and Microsoft Visual C++ Redistributable 2010 SP1.