Blood Bowl 2 (PC)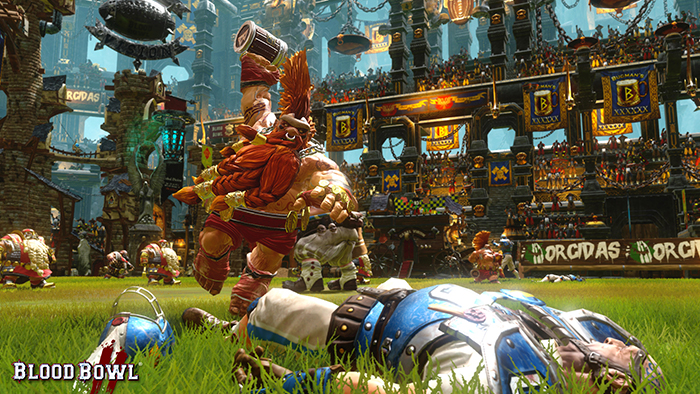 About The Game
Blood Bowl 2 smashes Warhammer and American football together, in an explosive cocktail of turn-based strategy, humour and brutality, adapted from Games Workshop's famous boardgame.
Blood Bowl 2's new graphics engine and high-flying realization makes for a faithful portrayal of the fury and intensity of classic Blood Bowl matches. The solo game mode will have you lead the famous Reikland Reavers. Former star team of Blood Bowl you are tasked with bringing them back to glory, following a full story campaign supported by the hilarious commentators Jim & Bob from Cabalvision. Each match of the campaign is unique, with unexpected and surprising events constantly renewing the experience!
The multiplayer modes are bigger and richer than ever. In the persistent online mode, create and manage your own team comprised of one of eight races from the Warhammer world – Humans, Orcs, Dwarfs, Skaven, High Elves, Dark Elves, Chaos, and the Bretonnia newcomers. You will develop your team, gaining XP and unlocking new skills. But beware! On the pitch, all losses are permanent... Organize entirely customisable championships, from qualifications to finale, and use the new Transfer Market to buy and sell your players, and build your Blood Bowl dream-team!
They said it couldn't be done, but they did it anyway! Blood Bowl 2 is a fanboys dream that he didn't even know he dreamed of. And that's totally fine. You may think of Blood Bowl 2 as a joke, but this game is for real, with in-depth modes to test your skills in football just as much as management in the classic style of Warhammer.
Brutalize your foes with strategies on the field, make plays that no one ever would have expected. Have a ball, then it down their throats! The potential for fun is limitless, especially when you take on the passionate hordes of the online community!