Borderlands: The Pre-Sequel Shock Drop Slaughter Pit Bonus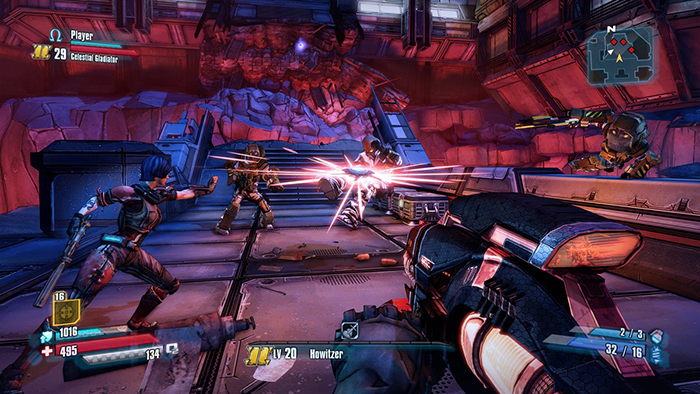 About This Game
LAUNCH INTO THE BORDERLANDS UNIVERSE AND SHOOT 'N' LOOT YOUR WAY THROUGH A BRAND NEW ADVENTURE THAT ROCKETS YOU ONTO PANDORA'S MOON IN BORDERLANDS: THE PRE-SEQUEL!
Discover the story behind Borderlands 2 villain, Handsome Jack, and his rise to power. Taking place between the original Borderlands and Borderlands 2, the Pre-Sequel gives you a whole lotta new gameplay featuring the genre blending fusion of shooter and RPG mechanics that players have come to love.
Float through the air with each low gravity jump while taking enemies down from above using new ice and laser weapons. Catch-a-ride and explore the lunar landscape with new vehicles allowing for more levels of destructive mayhem.
BRING MAYHEM TO THE MOON! Feel the moon's low gravity with every jump and stomp. Cause mayhem with new weapons equipped with ice and laser capabilities! New enemies offer a space-based twist!
THE RISE OF HANDSOME JACK! Witness Handsome Jack's rise to power. Dive deep into the origins of iconic Borderlands villains. Turn the tables and experience Handsome Jack's side of the story.
A NEW CLASS OF ANTIHEROES! Play as one of four new character classes, including Wilhelm the Enforcer, Nisha the Lawbringer, and Athena the Gladiator. Play as a combat-ready Claptrap prototype for the first-time! Experience the gray morality of working alongside Handsome Jack.
Just when you think Borderlands can't get anymore insane, Borderlands: The Pre-Sequel takes things to the next level. To the moon Borderlands! To the moon! Experience this newest adventure in the RPG shooter that helped redefine a genre, and give a whole new legion of fans something to smile and laugh about.
What will you discover about Handsome Jack as you go the moon of Pandora and both work with him and work against him? And how will this all tie into the highly-anticipated Borderlands 3? You're about to find out.
Plus, if you pre-order the game, you'll get the Shock Drop Slaughter Pit! Which will let you play on the moon as TR4-NU, and experience a whole new sidestory!