Carmageddon: Reincarnation (PC)
Carmageddon: Reincarnation is the driving sensation where pedestrians (and cows) equal points and your opponents are a bunch of crazies in a twisted mix of automotive killing machines. It's the antidote to racing games!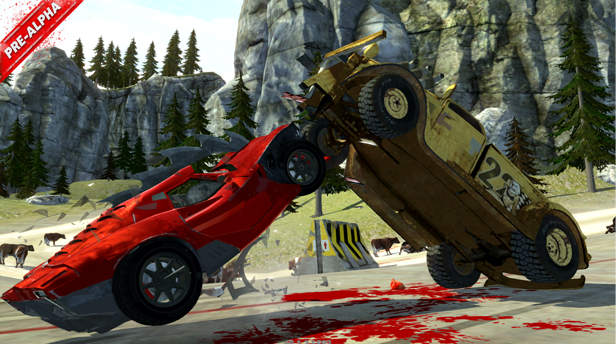 So Many Pedestrians, So Little Time
Q: What do I get in the game at Early Access release? The Early Access build features the following (unfinished) content:
LEVELS
Bleak City Outskirts level (with race route)

Dusty Trails level (with race route)

MagNuChem Reprocessor level (with race route)

Rig Wreck level (with two race routes)
CARS
The Annihilator (currently untextured and with permanent "Hot Rod"!)

Caddy Fat Cat

Cleaver

Countslash

Eagle R

Electric Blue (with permanent "Electro Bastard Ray"!)

The Plow (currently untextured)

The Twister

Plus The Cop APC and Cop CU:NT patrol car
Q: What's changed since the first release (the exclusive sneak peek for Kickstarter Backers)?
In the front end:
Control the visual options from the menus (see the FAQ for more details)

New choices to choose the behaviour of reverse camera

New option to quickly restart the event once your event has ended

A tutorial for the PIS (see below)

Control the master sound volume (boy do we treat you!)
PEDESTRIANS
There's a wide variety of pedestrians in the build, and it'd be silly to list them all individually! But amongst the bestiary of humanity and fauna we have nuns, grannies, the calorifically challenged, penguins, dogs, and a dead shark. Oh, and COWS!!
PowerUps
There's a wide variety of PowerUps in the build, and it'd be silly to list them all individually! New additions in the latest build include:
Electro Bastard Ray

Peds on Map

Mine Shitting Ability

Afterburner

Fast Bleedout

Opponent Stinger

Ped Detonator

…As well as the existing favourites, such as Solid Granite Car and Pinball Mode!
Q: How do I get the updates?
They happen automatically via Steam – they don't require you to do anything other than have downloaded the game, and have your Steam software running.
Q: How often will the game be updated?
There will be regularly scheduled Updates – and possibly also at irregular intervals, if something (for instance, Multiplayer) gets finished and we really want to get it out ASAP.
Q: How do I know what's in an Update?
There will be a Changelog thread on
www.carmageddon.com
here, that will detail updates and bug fixes for each release. Each release of the game will have an identifying number, which will be permanently displayed on-screen all the time. This way we can also easily track bugs and feedback that includes screenshots, as they'll show us the version being played.
Q: What platforms will Early Access support?
The Early Access release is for Windows PC only, via Steam. Following the Final Release, the game will also be ported to the Mac and Linux platforms, and the DRM-free non-Steam version will also be made available. As we said before, we are targeting other platforms besides PC, MAC and Linux and will make announcements when we know more.

The full game features:
Game Modes
Online & Offline Multiplayer

Single Player Career Mode
Vehicles
A wide variety of destructive vehicles featuring both updated classics from the original game, and some brand new crazy rides
Environments
Test your skills and aim for anything from peds to penguins around icy, industrial and country environments
Extras
Leaderboards. Challenge yourself to reach the top of the leaderboard using skill or brute force!

Achievements. A suitably warped array of mad Feats and Exploits will garner you the rewards that every gamer dreams of.

Challenges: Do the most stupid things, collect meaningless trinkets and waste hours of your life in the pursuit of ultimately pointless goals!

Easter Eggs: We've hidden a variety of special Easter Eggs throughout the game to keep you busy and entertained!

Crazy Power-ups: No really… These are utterly CRAZY power ups, that you will find scattered about the environments, and may well scatter you round the environment in return.

CarMODgeddon: The whole game will be MODdable for your MODding pleasure!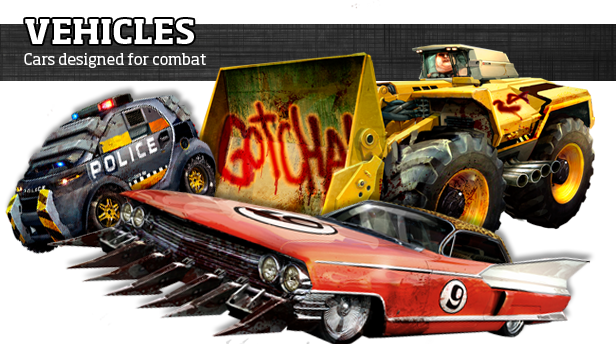 The Car Is The Star! Carmageddon: Reincarnation
features a wide and varied range of cool, crazy, custom killing machines; each with its own highly distinctive "character". Carmageddon cars are specifically built for the job in hand – wrecking opponents and killing peds! Carmageddon basically invented the whole concept of videogame physics and real-time damaging of cars and the scenery, and so it's obviously our responsibility to bring this technology BANG up-to-date with a brand new state of the art car damage (and repair) system. Crush, bend, twist, and completely mangle your opponents' and your own car – smash parts off, or split it in two; the original game was all about wrecking motors and pummelling pedestrians, and we'll be taking this to a whole new level! Of course Power, Armour, and Offensive upgrades make a return, along with new customising options, allowing you to personalise the killing capabilities of your preferred rides.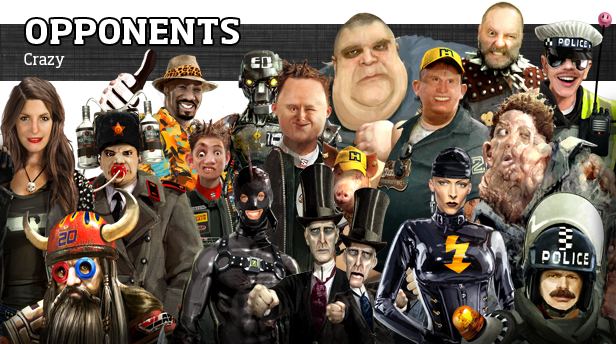 A host of old favourites make a comeback, along with some all-new faces. Only ever seen before as low resolution mugshots, now you'll get to see them from head to toe (well, head to knees in the case of Screwie) in full HD 3D glory – usually as they smash through their windscreen and hurtle past (or INTO) yours!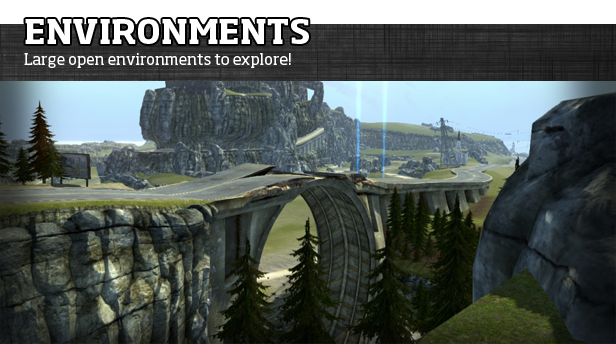 The new environments are amalgamations of the best bits from the numerous chunks of landscape that we all loved to tear around in Carmageddon. "Bleak City", "Dusty Trails", "Industrial" make a return, with their memorable landmark features such as the Loop 'de' Loop, acid pits and Football Stadium. Everything will be reassuringly surreal; hell, we've even managed to incorporate a giant food mixer into a level!
The topography and detail in the locations is being updated and enhanced, with even more fun stuff to smash into, smash up, snap off, and send careening into the poor pedestrian population. "Nice Shot Sir!" And talking of pedestrians…
Once again, the game features a varied mix of adult pedestrians of all ages, shapes, persuasions and species (Carmageddon is an equal opportunities Ped Slaughterfest). Classic pedestrians will make a return, such as old lady on a Zimmer frame and old man with his stick, with their famous cry "I was in the war!", plus bikini babes and swimming trunk hunks, fat bastards, and herds of cows in improbable locations. Joining them are some new faces – including the Stainless dev team and some guest appearances by the generous Kickstarter Backers who pledged their way into a VIP role in the game!
PowerUps are back (well, they couldn't not appear in a game bearing the name Carmageddon, could they!) and this time they're even funnier, surrealier, hurtier, and messier than ever! Lots of the classic PUps (as we call them) return in super-enhanced form, such as Repulsificators, Kangaroos & Solid Granites. Then we have all new PUps like "Pelvic Thrust" and a variety under the heading "Tossers"! Combine PUps to create hilarious combo results like "Groovin' Helium Filled Peds", or "Peds with Stupid Heads at the Temporary Rapture"!
Play Classic Carmageddon game modes against the new improved AI opponents, online against the rest of the Carmafan masses, or on the couch with your mates! Progress your Career through the Carma ranks or have an MP romp playing Classic Carmageddon mode, Fox 'n' Hounds (always been Stainless MP game session favourite!), Car Crusher etc., plus the odd mode you've never played before…
And relive all the mangling mayhem with a fabulously updated Action Replay System, with multiple cameras and replay options – it'll mean you never miss a pile-up again! Get those movies online and brag about your ped culling achievements. And there will be plenty of THOSE too – oh yes… Achievements, Challenges and Collectibles to hunt down, that'll keep the whole family entertained for hour upon happy blood and oil splattered hour.

FAQ? Go to
https://carmageddon.zendesk.com/hc/en-us/sections/200134541-Early-Access-FAQ
Known issues: Go to
https://carmageddon.zendesk.com/hc/en-us/articles/200414371-Carmageddon-Reincarnation-Known-issues