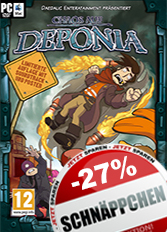 Chaos on Deponia (PC)
Unique world honoring the tradition of Douglas Adams, Terry Pratchett and Matt Groening.

Hand-drawn art design in full HD glory and high-quality cartoon animation drawn in comic style.

Bizarre characters and wacky humor meet challenging puzzles.

Elaborate soundtrack with many atmospheric tracks.

From the creators of the award-winning adventures 'Edna & Harvey: The Breakout' , 'Edna & Harvey: Harvey's New Eyes' and 'The Whispered World'.