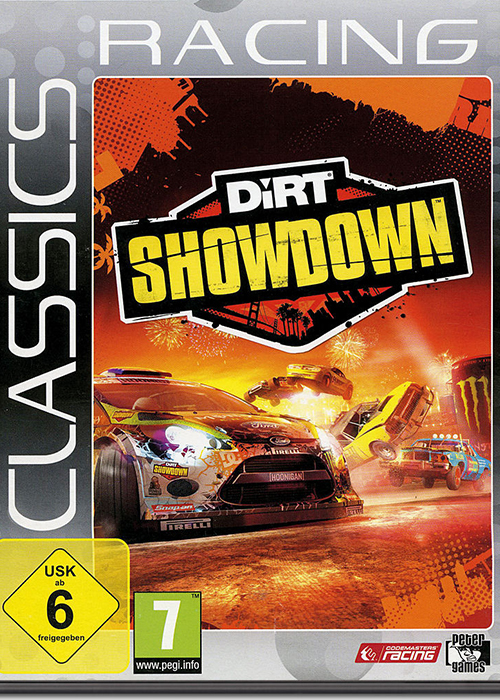 DiRT Showdown (PC)
About This Game
DiRT Showdown is a brand new dive in and drive adrenaline rush of speed, style and destruction from the creators of the multi-award winning DiRT series. Players jump into a new world of arcade racing with pick up and play controls, speeding, tricking and smashing their way to 'Showdown' finals to compete against rivals in front of thousands of fans in a vibrant festival atmosphere. There are three broad categories to DiRT Showdown's stunning world of action-sport racing. Players will use nitrous to blast past rivals and negotiate courses filled with ramps, multiple routes and obstacles in racing events. Gaming's most advanced damage engine is pushed to its limits in demolition derby events, where players smash and crash their way to victory in jaw-dropping, bone-jarring style.
Finally, in Hoonigan events gamers can demonstrate their freestyle driving skill in huge free-roaming stunt parks with new accessible controls. DiRT Showdown is Codemasters' most connected game ever - split-screen multiplayer, eight player online racing, on and off-line quick-fire party games, and YouTube integration all come as standard. Players can also issue new 'Showdown Challenges' to compete with friends in on and off-line modes. In the career mode, globe-trotting Showdown players will travel from Miami to San Francisco, London to Tokyo and other famous locations earning the adulation of the crowd at hyper-energised, frenzied, unsanctioned race events.
With 50 different races to do over four championship standings, there's a lot to race in, and you'll need to be on the top of your game to make sure you're ready for the next race. The environments are changing from race to race. You may race in perfect weather, or you may race when it's dark, and cold, and damp, you don't know. Race in the day, race in the night, DiRT Showdown lets you feel like a real racer by giving you experiences only real racers would feel.