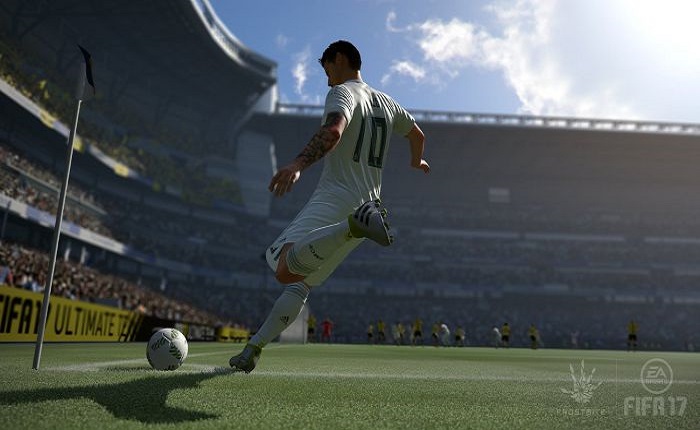 FIFA 17/18 2200 FUT Points (PC)
This product can be used by FIFA 17 and FIFA 18.
The league leaders of Football games is back for its yearly outing with FIFA 17.
Featuring Borussia Dortmund's Marco Reus as the cover star, FIFA 17 is the most immersive and realistic football experience we have seen. The new release brings about a complete overhaul of the physical techniques and gameplay from previous games, with a rewritten set piece mechanic and an active intelligence system.
For the first time ever, FIFA 17 will feature The Journey - a single-player story mode starring up and coming star Alex Hunter on his journey to the top. The career mode also sees further improvements, including financial and domestic goals to be reached in order to retain your position at the club. FIFA Ultimate Team will also feature new additions, including FUT champions and Squad Building Challenges.
Prepare for kick-off in the greatest soccer offering to date with FIFA 17.
About FIFA 17/18 2200 FUT Points (PC) Game Key
product includes 2200 FUT Points for FIFA 17/18.
The FIFA series has absolutely redefined the sports video game genre over the years. From casual players to professional gamers, FIFA has one of the largest followings of any game. Every release promises new advances as technology moves forward and more realistic gameplay as a result.
FIFA 17 continues these trends as we have already been treated to sneak peeks showing how innovative the newest version of the world's largest football video game will be. No gamer can say he/she has a complete games library without this game, and it is a must try for every savvy gamer!
FIFA 17 2200 FUT Points (PC) Game Key Features
---
FROSTBITE - BRAND NEW GAME ENGINE: FIFA 17 will be played on a brand new engine, Frostbite. You can expect true-to-life action and more in-depth emotions from the players as a result. This goes without saying that more detail is to be expected on and off the pitch including player interactions as well as new environments such as tunnels, locker rooms, the manager's office and the team plane.

NEW GAME MODE - THE JOURNEY: The Journey is a brand new game mode presented in FIFA 17 which will put you in the shoes of an upcoming young prospect, Alex Hunter. Show that you can make a mark in the English Premier League as you grow physically and emotionally in and out of game. The decisions you make off the pitch will be just as important as how you play on it.

UNPARALLELED QUALITY: The FIFA series is hands down the best-selling sports video game worldwide selling over 100 million copies. As a product which is officially licensed by football's governing body, FIFA, you know that you're about to buy a product which will always deliver on quality.