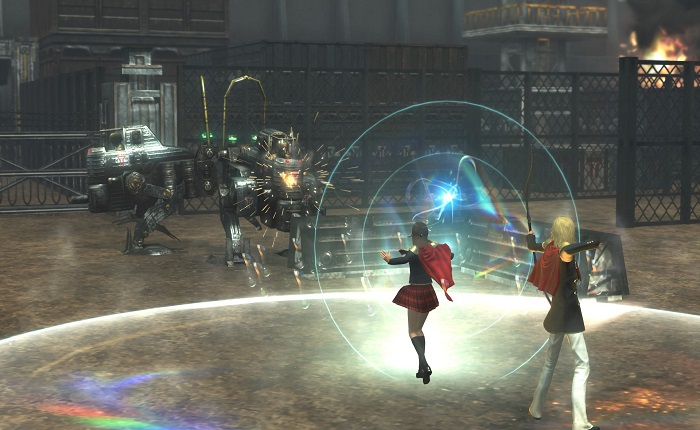 Final Fantasy Tpye-0 HD (PC)
About Final Fantasy Tpye-0 HD (PC)

Step into the fray as Class Zero, a group of students from an elite military academy whose country is attacked by an aggressive neighbouring Empire. In the brutal and harrowing struggle that follows, defeat the Empire and uncover the secrets behind the war using a range of powerful magical and combat abilities and an exciting new battle system.
Upgraded graphics resolution options for high end pc's. Improved in-game battle camera. Full controller support. Full STEAM achievements and trading cards. Scalable motion blur settings. New Character speed boost. Increased blood levels from the original PSP version.Customizable dynamic screen shot mode.
In an act of unprovoked aggression, the Militesi Empire invaded the Dominion of Rubrum. Imperial dreadnoughts swarmed the skies, assailing the unsuspecting countryside under the banner of the White Tiger. From amidst the flames of the besieged dominion, the Vermilion Bird rose in defiance, her crystal granting magic and mighty eidolons that her disciples might cast out the technologically advanced aggressors.
Thrust into the tumult of war, the fate of the world and its four crystals now rests on the shoulders of fourteen brave, young warriors.
The world of Orience is filled with history and Lore. For example, there were four lights of hope that the people of Orience clung to, and through them, they built their societies and civilizations. Each one different, each one unique in what they can do.
So take control of the students and save your kingdom. Do it how you want it using a wide range of skills and abilities, and use the students to ensure you are the victor. Raise them to fight the evils of the world and ensure you survive. Will you be able to fight back with what you have? Or will you get overrun? Find out the epic story that is Final Fantasy Type 0 HD.