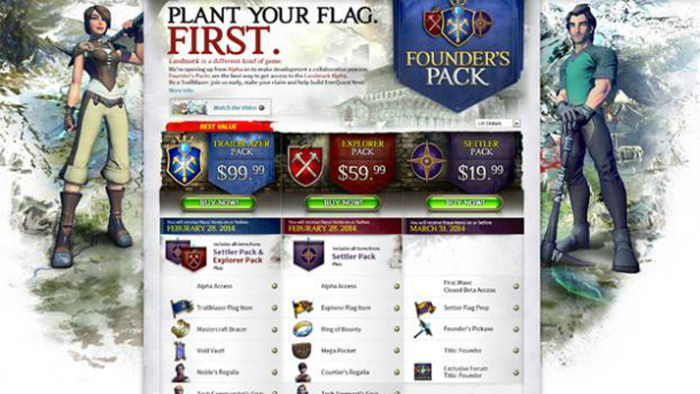 Landmark - Settler DLC (Early Access Game) (PC)
Settler Pack Overview:
We're utilizing Closed Beta to make development a collaborative process. Founder's Packs grant you unrestricted access to the Landmark Closed Beta, so you can help create the world of Landmark. Additionally, each Founder's Pack offers exclusive items you'll only be able to get through purchasing a pack.
Settler Pack - $19.99
• Unrestricted Closed Beta Access

• Settler Flag usable in EverQuest and EverQuest II

• Founder's Pickaxe

• In-game Title: Founder

• Forum Title: Founder
Want more Landmark? Check out our other DLC Packs:
Explorer Pack - $59.99 – Includes all Settler Pack items plus several additional items not included in the Settler Pack

Trailblazer Pack - $99.99 – Includes all Settler and Explorer Pack items plus additional items not included is the Settler and Explorer Pack, such as 4 sharable permanent beta keys and your name in the Landmark Credits.
About Landmark:
Landmark is a social building MMO that is currently in Closed Beta. Landmark lets you build anything you can imagine. In addition to building, the game will incorporate combat, survival and a procedurally generated world with endless content below the surface, plus much more. With Landmark's state of the art tools, you have unprecedented control over your creations. Additionally,
Player Studio
will allow players to submit their creations for possible inclusion in the in-game marketplace and share in the proceeds when their items are sold.
Explore massive Landmark worlds and claim territory, building materials and much more. See what your fellow players have created — and help them build!
This is your chance to help build a game! Build alone or in groups to create Landmarks. Join massive construction competitions and your creations could become a permanent part of the game. Also, selected designs players create will become fixtures in the EverQuest Next world.