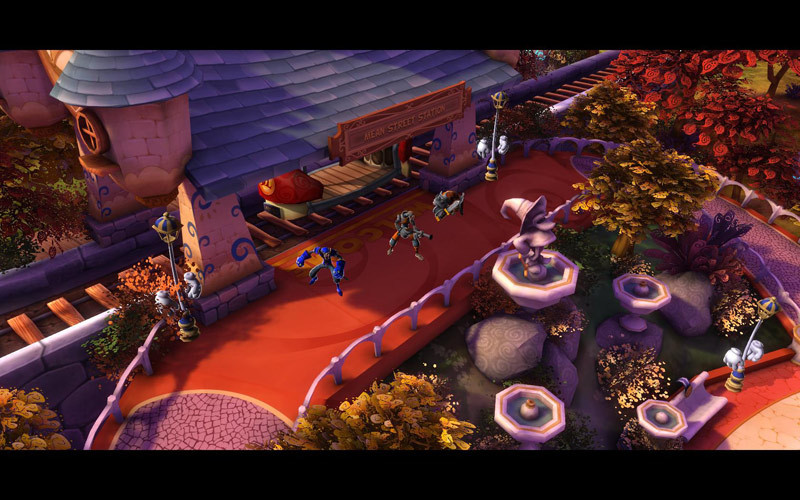 Night at the Grindhouse (Dungeonland + The Showdown Effect)
NOTICE:Activation key must be used on a valid Steam account, requires internet connection.
ABOUT THE GAME
---
Paradox Interactive is proud to present a double bill of thriller chiller, blood spillers!
In a world that wouldn?t allow them to survive, an entire cast of clich??d combatants meet one fateful night and unleash bloody carnage on their equally-contrived counterparts in this year?s smash hit,
The Showdown Effect.
Filmed in special 2.5D RenderVisionScope, The Showdown Effect?s multiplayer mayhem blasts its way from the silver screen to your home computer.
Finishing off this unique double feature is one of the most sadistic, diabolical, sinister tales ever told. Three heroic adventurers , in search of fame and fortune, travel to a mysterious theme park overseer ᄀᄚ the mythical Dungeon Maestro. Join forces with two of your doomed friends and attempt to take down the treacherous Maestro. Or play the role of the Maestro himself and terrorize the hapless human-controlled heroes. You can?t escape the shock, the terror, the pure insanity of...
Dungeonland.
THE SHOWDOWN EFFECT
---
Up to 8 player fast paced, cinematic, multiplayer action


In-game, out-of-the box streaming capability to Twitch.tv


8 clich??d characters , each with unique abilities


6 levels across three different environments


4 different free for all and team based game modes


Solo matchmaking using ELO rating system


Custom rules sets to create your own game modes ᄀᄚ Pistols only!


Progressive rewards and unlocks for character and weapon customization


BONUS ITEMS: Includes one playable character and one special weapon
DUNGEONLAND
---
Strategic Co-op Gameplay: Utilize each character?s unique skills and weapons, combine their special powers to form all new attacks, or just plain hack and slash your way through this treacherous theme park


Competitive Multiplayer: Play as the Dungeon Maestro himself and unleash evil on your friends. Summon your minion to thwart the heroes, conjure spells or take control of a boss monster and get in the action yourself. Then push the Evil Laugh button and let your sinister cackle reverberate throughout the land


Replayability: The DM AI randomizes monsters, treasures and dangers each session to create a unique experience; player choice in equipping items creates endless combinations for more variety


Colorful Game World: Four different theme park environments to explore, each with their own unique attractions. Don?t forget to visit the gift shop on the way out. The prices are to die for?


BONUS ITEM: Includes the Dungeon Maestro Grimoire Pack ᄀᄚ a collection of spells , traits and a possession ability to help thwart those pesky heroes
SYSTEM REQUIREMENTS
---
The Showdown Effect
Windows Vista/ Windows 7/ Windows 8/ Mac OSX 10.7 or later
Quad Core Intel or AMD processor
4 GB RAM
2 GB free HDD space
Shader 4.0. graphics card Memory: 1GB, DirectX? 10.1 (recommended: Nvidia GeForce 460, AMD Radeon 5870, Graphics Card) or better Broadband Internet connection required. Onboard Integrated Video Card Not Supported
MULTIPLAYER UP TO 8 PLAYERS
Dungeonland
System Requirements: Windows Vista / Windows 7
Dual Core 2.6GHz
4GB RAM,
4GB HDD
DirectX 9.0 compatible card with 512MB (minimum Nvidia GeForce 8000, AMD Radeon HD 2000)
DirectX compatible sound card
DirectX?: DirectX 9.0c
Controller support: Up to 3 controllers for play as heroes; Controller support not available for Dungeon Master Mode
Single player or Multiplayer
---
? 2013 Paradox Interactive.Trademarks belong to their respective owners.All rights reserved.