Kirby Planet Robobot - NINTENDO eShop Code (3DS/EU/Digital Download Code)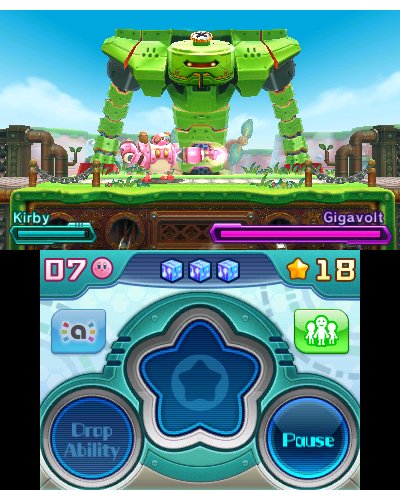 ABOUT NINTENDO Kirby Planet Robobot eShop Code 3DS (EU) KEY
Harness the power of a mysterious mech to stop ruthless invaders from mechanizing Kirby's home world. Smash through tough obstacles, lift heavy objects with ease, and scan enemies to shape-shift into new Modes with powerful abilities in this supercharged action-platformer!
That's right—Kirby's Robobot Armor can shape-shift into different modes by scanning enemies to copy their moves—like the new Jet Mode. Not to mention, Kirby can copy abilities the old-fashioned way too—by inhaling them! After saving the world, team up with three friends to defeat foes in Team Kirby Clash, an RPG-styled 4-player brawl where you choose from varied roles and level them up.
Kirby has the power to save his world with his mechanized Robobot Armor. Scan enemies and watch Kirby's new suit shape-shift into powerful modes with flamethrower arms, buzz-saw hands, and more! When Kirby jumps into the Robobot Armor, he can scan enemies to transform his suit and gain new abilities.
That doesn't mean that Kirby won't have his regular copy abilities though! Kirby can inhale enemies to gain cool powers, like Ninja moves and icy breath. Or, if you have Amiibo, you can tap one of the new Kirby series amiibo figures to dress up Kirby in a King Dedede, Meta Knight, or Waddle Dee costume.
The Kirby series has always been about showing off the power of the adorable pink puff ball known as Kirby, and in Kirby Planet Robobot, you'll get to see that power taken to all new heights! Aliens have invaded your home, and they're trying to mechanize Dream Land! Only Kirby is able to stop them, but in doing so, you'll unlock the power to turn these foes mechanical weapons against them!
Brand new abilities await you both in the suit, and in your regular Kirby powers. Wield classic powers, or use the new ones to bring a whole new level of hurt to your enemies. Whatever it takes to save Dream Land.