Mario Kart 7 - NINTENDO eShop Code (3DS/EU/Digital Download Code)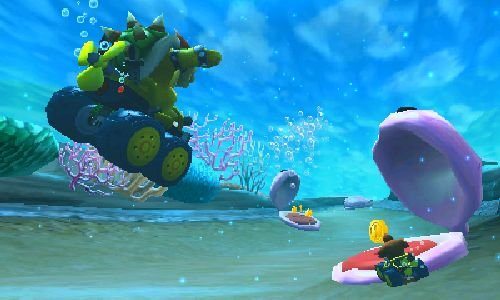 About this game
The newest installment of the fan-favorite Mario Kart franchise brings Mushroom Kingdom racing fun into glorious 3D. For the first time, drivers explore new competitive kart possibilities, such as soaring through the skies or plunging into the depths of the sea. New courses, strategic new abilities and customizable karts bring the racing excitement to new heights.
The Mario Kart franchise continues to evolve. New kart abilities add to the wild fun that the games are known for. On big jumps, a kart deploys a wing to let it glide over the track shortcut. When underwater, a propeller pops out to help the kart cruise across the sea floor.
Players can show their own style by customizing their vehicles with accessories that give them a competitive advantage. For instance, giant tires help a kart drive off-road, while smaller tires accelerate quickly on paved courses. People can choose to race as one of their favorite Mushroom Kingdom characters or even as their Mii character. Plus, there's some special hidden characters just waiting to be unlocked that harken back to the earliest days of Nintendo history!
New courses take players on wild rides over mountains, on city streets and through a dusty desert. Nintendo fans will recognize new courses on Wuhu Island and in the jungles from Donkey Kong Country Returns.
Then, for the second time, the handheld version of the game supports online play. Meaning, you can link up with your friends and go racing! Or, you can go against your friends and battle to your hearts content! Whichever way you want to play, Mario Kart 7 will accompany you.
So, get your racer on, and drive through all the tracks, all the circuits, with all the characters from Mario, Donkey Kong, and beyond. The races are about to begin. Ready, set, GO!