Monster Hunter 4 Ultimate - NINTENDO eShop Code (3DS/EU/Digital Download Code)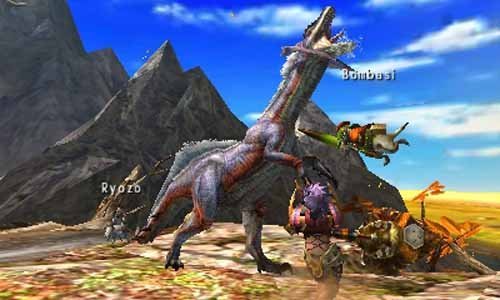 About NINTENDO Monster Hunter 4 Ultimate eShop Code 3DS (EU) KEY
In Monster Hunter 4 Ultimate you'll embark on an epic journey, traveling across a vast world hunting larger than life beasts as you search for the source of a mysterious virus. Travel with a caravan of fellow hunters and merchants as you make your way across multiple locales, each with its own unique look and feel in the largest Monster Hunter ever!
This grand adventure will include hundreds of quests to take on a variety of extraordinary creatures that yield valuable resources used for weapons and equipment. Choose from 14 different weapon classes such as the Dual Blades or Gunlance, or try one of the new weapons classes, the agile Insect Glaive or the devastating Charge Blade. Craft hundreds of different armor sets, each with their own unique skills and stats as you become the ultimate hunter.
But don't hunt alone! Form a party with up to three other friends locally or via the Nintendo Network to take on the fiercest foes together
Free DLC: The last pack of Free DLC for Monster Hunter 4 Ultimate is finally here, featuring some extremely dangerous monsters, 2 brand new GX armor sets, 7 fun masks and more!
The Monster Hunter franchise has been one of Japan's biggest gaming titles for many years, and Monster Hunter 4 Ultimate gives you the experience of that game in the palm of your hands! Check out the vast world you live in, and take on any and ALL creatures that reside in it. You can be any kind of warrior you want, whatever you feel will give you the best chance in battle. Build your character up so you can challenge more and more foes!
Plus, since this is on a Nintendo platform, try out some of the special DLC gear and weapons from classic Nintendo franchises like Super Mario Bros., Legend of Zelda, and more! Monster Hunter 4 Ultimate is an experience you must try for yourself.