New Super Mario Bros. 2 - NINTENDO eShop Code (3DS/EU/Digital Download Code)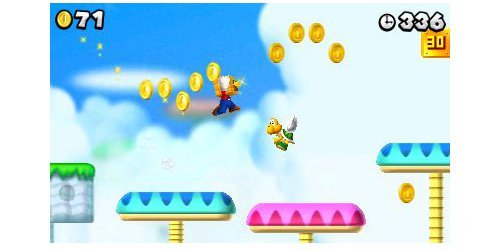 About New Super Mario Bros. 2 - NINTENDO eShop Code

Bowser has once again kidnapped Princess Peach, but this time, Mario has another objective. The Mushroom Kingdom is bursting with more gold coins than before. Each level is littered with gold as coins rain down from overhead pipes, trails of coins are left behind special gold enemies and gold pipes transport Mario into coin-filled caverns. It's up to players to collect as many coins as possible throughout their adventure.
The game records all the coins players collect throughout the game, so completing a level is only part of the fun. Every level is filled with golden opportunities, such as gold rings that turn enemies into valuable gold versions and a Gold Flower that gives Mario the ability to turn almost anything in his path into coins.
Coin Rush Mode allows players to collect as many coins as possible across three levels and challenge friends to beat their record via StreetPass.
New Super Mario Bros. 2 is an all-new side-scrolling adventure game featuring Mario and Luigi. Two players who each own the game will have the option to play the entire game in two-player multiplayer mode using local wireless.
Plus, experience the return of Raccoon Mario! This power-up will give you access to areas you wouldn't be able to get as just regular Mario, and that means you'll get access to even more coins!
Mario games have rarely been this fun in regards to collecting coins. Sure, before you could collect them to gain lives, but now, you're going for status! Will you be able to show just how good of a coin collector you are? Or, will you forgo them in order to beat the game faster? You can do either, but only one will give you the true New Super Mario Bros. 2 experience. So jump on in, the coins, and the princess, are waiting.