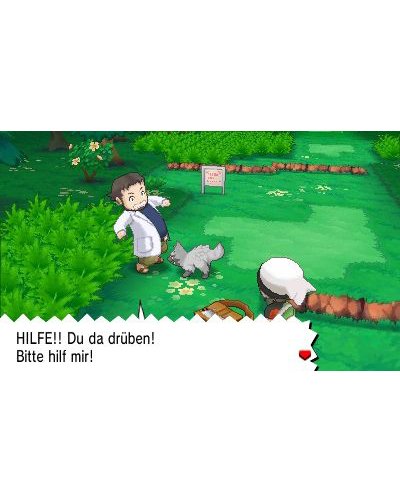 Pokemon Alpha Sapphire - NINTENDO eShop Code (3DS/EU/Digital Download Code)
Availability

Out of Stock
About this game
Soar high above the Hoenn region on an unforgettable quest to be the very best Pokémon Trainer. As you catch, battle, and train a variety of Pokémon, you'll unleash powerful new Mega Evolutions. Seek out Legendary Pokémon from regions near and far while and uncover the secret powers of Primal Groudon and Primal Kyogre!
The Pokémon Omega Ruby and Pokémon Alpha Sapphire games deliver the excitement of the original Pokémon Ruby and Pokémon Sapphire games now reimagined and remastered from the ground up to take full advantage of the Nintendo 3DS and Nintendo 2DS. With new Mega Evolutions of past Pokémon, new characters and stories, new areas to explore, new ways to find and catch Pokémon, and new ways to travel, these games offer hours of entertainment for both current Pokémon fans nd players just getting into the series!
Pokémon Omega Ruby and Pokémon Alpha Sapphire will take players on a journey like no other as they collect, battle and trade Pokémon while trying to stop a shadowy group with plans to alter the Hoenn region forever.
Embark on a new adventure through the Hoenn region, an area rich in natural beauty, that contains a cave that shows a scene described in legends.
Experience the awe of Primal Reversion, a new, extremely powerful transformation undergone by Legendary Pokémon Groudon and Kyogre.
Get even closer to solving the mysteries of Mega Evolution as more Pokémon gain this powerful ability.
The Pokémon Alpha Sapphire game isn't just a remaster, in many ways it's a retelling of a classic story. The Hoenn region brought many things to the world of Pokemon, including some of the most popular legendary Pokemon every, and now, you get to see them in their true forms!
Mixing the region and Pokemon from the original games, with the advancements of the modern titles, Pokémon Alpha Sapphire is only the second Pokemon game to feature full on 3D Pokmeon battles, as well as new forms of evolution not previously available in the Hoenn games.
A new take on your Pokemon journey is here, get your Pokemon and go see the world!