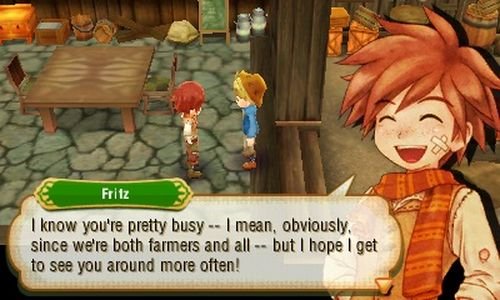 Story of Seasons - NINTENDO eShop Code (3DS/EU/Digital Download Code)
Availability

Out of Stock
About Story of Seasons - NINTENDO eShop Code
Enjoy a wealth of homegrown food, friendship and romance in the return of gaming's most beloved farming series! Best-selling farming/life simulation game of all time returns. Longtime series producer Yoshifumi Hashimoto returns to lead a veteran 'Bokujo Monogatari' development team as the series is reborn in the West with its new name, STORY OF SEASONS.
Extensive character and farm customization. After creating unique farmers based on each player's preference of gender, hair style and facial features, the real work begins as players tend to crops, animals and anything else required to earn a living in order to gather the resources to start customizing and expanding their farms.
A heart-throbbing romance heats up the peaceful farm life. A variety of eligible bachelors and bachelorettes live in the town for players to woo, with the hope of growing close and possibly even getting married and raising a family together.
Use the game's StreetPass functionality to fill your town with visiting farmers or connect locally to Nintendo Wi-Fi to visit your friends and farm together!
One cold winter day, as you were going about your daily routine, you discovered an unassuming pamphlet in your mailbox.
"New Farmers Wanted! Join us and help Oak Tree Town grow as you work the land," it read.
That's how your journey starts, you answer a pamphlet, and you get accepted for a job! Now, go see what the farm life is like in Story of Seasons. Tend to the land, make it grow, make it beautiful, and make it so more can grow after give it to those who need it.
As mentioned, there's plenty of other things to do in Story of Seasons too, as farm life and family life can go hand in hand if you want it too. There's no end to the fun and possibilities as you try and make your life oh so special in Story of Seasons.