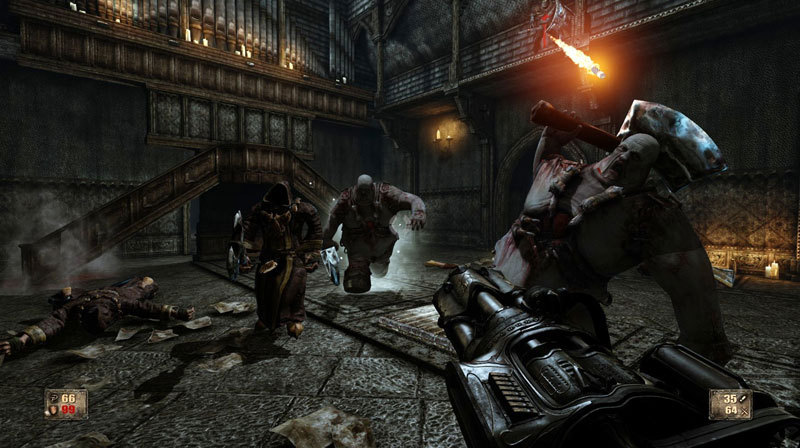 Painkiller Hell & Damnation Operation - Zombie Bunker (DLC)
NOTICE: Requires the base game Painkiller Hell & Damnation in order to play. Activation key must be used on a valid Steam account, requires internet connection.
ABOUT THE GAME
---
Daniel is pulled into a world more despicable than you can imagine. The evil demonic forces throw him into a chaotic and insane military world. American, Russian, German military forces of different eras all blend together to form one gigantic army-themed nightmare?
KEY FEATURES
---
New map: The Bunker (a dark air raid shelter complex in the 1940s) including a new boss-fight against one nasty red-coloured skull


Reworked map: In Stalingrad (former ?Leningradン), it is on! Inbound airstrikes, airplanes, and Zeppelins firebombs our hero, and even deploy Zombie Soldiers from above!


Area 51 and Cold War will hit you hard in the reworked map ?Military Baseン ᄀᄚ Space Commandos, UFO boss fight, nuclear missiles


Two new rocket launchers


One new Multiplayer map: Fragenstein, playable in various Multiplayer modes


New enemies: Russian, American, and German Zombie Soldiers as well as their tanks!


New melee weapon: The ?Morgensternン - Smite your enemies with its spiky ball at short distances, or deploy sticky mines to battle from afar.


New Silver Tarot card: Armor Regeneration (recharging your collected armor)
SYSTEM REQUIREMENTS
---
PC System requirements
Minimum:
OS: Windows XP SP
Processor: Intel Core 2 Duo @ 2Ghz / AMD Athlon 64 X2 equivalent
Memory: 2 GB RAM
Video Card: NVIDIA or ATI card with shader model 3.0 support and 256 MB VRAM
DirectX?: 9.0c
Sound: DirectX Compatible
Additional: Initial installation requires one-time internet connection for Steam authentication
Software installations required (included with the game): STEAM Client, Microsoft DirectX, Visual C++ 2008 Redistributable, Visual C++ 2005 SP1 Redistributable
Recommended:
OS: Windows 7 x64 / Windows 8
Processor: 2.4 GHz Quad Core processor
Memory: 3 GB RAM
Video Card: GeForce 9800 / ATI Radeon HD4850 Shader
Model 3.0 and 1 GB VRAM
DirectX?: 9.0c
Sound: DirectX Compatible
Additional: Initial installation requires one-time internet connection for Steam authentication
Software installations required (included with the game): STEAM Client, Microsoft DirectX, Visual C++ 2008 Redistributable, Visual C++ 2005 SP1 Redistributable