Steam Game Card 100 USD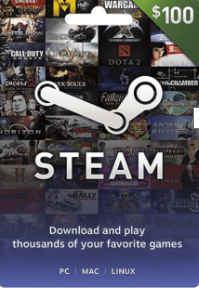 Platform:

Region:

Tags: Top-Up Card

Stock:

Available for order

bestseller! Demand exceeds supply!We are replenishing our stock,We will send the keys to your email within 48 hours from your reservation.
Den Code Ihrer Steam Game Card erhalten Sie per Email.

Mit der Steam Game Card können Sie das Guthaben Ihres Steam Accounts aufladen und somit Games und Addons problemlos auch ohne Kreditkarte erwerben. Außerdem ist es Ihnen möglich mit dem US Guthaben endlich Uncut Spiele bei Steam zu erwerben!

Das Guthaben wird entsprechend der jeweiligen Landeswährung automatisch umgerechnet, wenn sie keinen US Account besitzen. Steam nutzt hierbei Ihre hinterlegten Adressdaten als Grundlage.

Den Code Ihrer Steam Game Card einzulösen ist denkbar einfach. Loggen Sie sich einfach bei Steam ein, oder erstellen Sie einen neuen Account, wählen Sie im Menüpunkt "Spiele" -> ""Einen Steam-Guthaben-Code einlösen" aus und geben sie den Code, den Sie von uns per Email erhalten haben, ein.

Nachdem Sie Ihr Guthaben aufgeladen haben, können Sie bei Steam alle Titel erwerben, die Sie schon immer haben wollten.