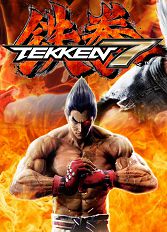 Tekken 7 (PC)
About Tekken 7 (PC) Game Key
We don't know a whole lot about Tekken 7 but we do know that the game apparently manages to finish off the Mishima storyline (or so we think) as a key character in the game's long-running story about the battling bloodline in a very corrupt family tree.
The news comes courtesy of Gamenguide, where they relay a lot of details from the game's producer Katsuhiro Harada. He originally announced the game back during the Evo 2014 weekend, where the first details about the game became public and we all learned that Tekken 7 would be designed on Epic Games' Unreal Engine 4.
The game engine would power the fighting game for today's high-end consoles and... we also just learned that it will also power the game for PC. That's right, the Unreal Engine 4 has enabled Bandai Namco to leverage the pipeline technology to conveniently – for the very first time in the history of the Tekken franchise – develop the game for personal computer users.