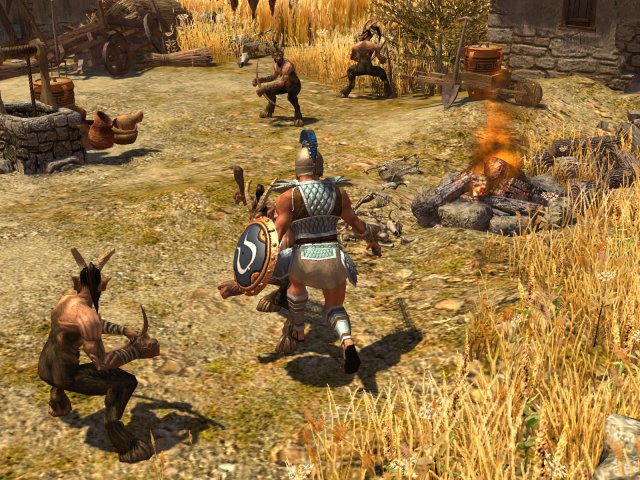 Titan Quest Gold Edition
Availability

Out of Stock
NOTICE: Activation key must be used on a valid Steam account. Requires internet connection.
TITAN QUEST GOLD EDITION
---
For the first time have the critically acclaimed and best selling Action-RPG game Titan Quest and its tremendous add-on Immortal Throne in only one pack.
TITAN QUEST
---
Discover the Courage that Turns Heroes Into Legends.
From Age of Empires co-creator Brian Sullivan and Braveheart writer Randall Wallace comes an innovative, all-new action role playing game set in ancient Greece, Egypt and Asia.
The Titans have escaped their eternal prison, wreaking havoc upon the earth. The gods seek a hero who can turn the tide in an epic struggle that will determine the fate of both men and gods. Are you ready for the quest?
Key features
Explore the Ancient World - Unlock arcane mysteries and battle the beasts of mythology as you journey to the Parthenon, Great Pyramids, Hanging Gardens of Babylon, The Great Wall and other legendary locations.
Amazing Graphical Detail - Take a hero's journey through authentic Ancient World settings crafted in stunning, realistic, 3D detail.
Conquer Monsters of Legend - Battle horrific monsters and mythical beasts in a story-driven campaign that will determine the fate of all existence.
Highly Customizable Characters - Build and customize your characters with 28 classes and over 1000 pieces of unique and legendary items to create the ultimate champion.
Create Your Own Worlds - Create your own maps with the easy-to-use World Editor for endless adventuring.
Online Multiplayer Gameplay - Challenge others to experience your map creations in fast-action, 2-6 player online cooperative gameplay.
TITAN QUEST: IMMORTAL THRONE
---
Titan Quest: Immortal Throne is the action-packed expansion to the 2006 RPG hit, Titan Quest. Brian Sullivan, award-winning co-creator of Age of Empires and Titan Quest, continues the epic story across the dark and more sinister Underworld of Hades.
In this epic quest of good versus evil, players will encounter the greatest villains of Greek mythology, brave the attacks of Cerberus, and hazard the banks of the River Styx. Along with new foes, players will find new allies. Players will interpret the prophecies of the blind seer Tiresias, fight alongside Agamemnon and Achilles, and use the wiles of Odysseus to conquer this dark new adventure.
Key features
10 Additional Character Levels - allows players to bring existing and new characters to new heights, along with higher level equipment and skills
8 New Character Classes - The expansion pack features an entirely new skill mastery, which combines with existing skill masteries to create eight new exciting character classes.
New Exotic Monsters and Locations - Quest through exotic locations in the Mediterranean area and ultimately descend across the river Styx into the heart of Hades. Defeat terrifying new monsters on your way to victory!
Artifacts & Enchanters - A new type of rare equipment that gives the player characters a powerful bonus. Plus, new non-player characters that can create artifacts from recipes.
More Unique Equipment - Uncover hundreds of powerful new unique items and use Caravans to store them as you quest through the Underworld of Hades.
SYSTEM REQUIREMENTS
---
Minimum:
Windows? 2000 or XP
1.8 Ghz Intel Pentium IV or equivalent or AMD Athlon XP or equivalent
512 MB RAM
5 GB free hard drive space
64 MB NVIDIA GeForce 3 or equivalent or ATI Radeon 8500 series with Pixel Shader 1.1 support or equivalent
DirectX? 9.0c compatible 16-bit sound card
Recommended:
Windows XP
3.0 Ghz Intel Pentium IV or equivalent
1 GB RAM
128 MB NVIDIA GeForce 6800 series or ATI Radeon X800 series or equivalent, Soundblaster X-Fi series sound card