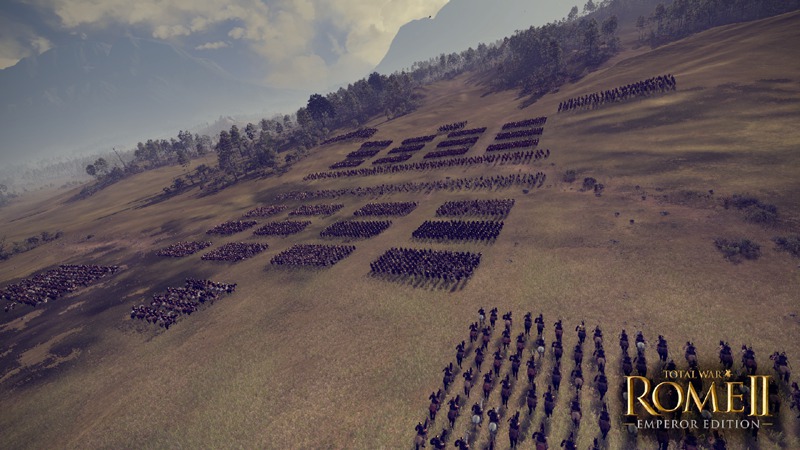 Total War: Rome II - Emperor Edition
NOTICE: Activation key must be used on a valid Steam account. Requires internet connection.
About the game
The definitive edition of the best-selling strategy game Total War: ROME II, the Emperor Edition contains everything the original ROME II did, plus much, much more.

Alongside numerous improvements to performance and gameplay and all additional free content released since the launch of ROME II (including four bonus playable factions), the Emperor Edition introduces an improved politics system, refined unit balancing and new building chains.
Also includes a free download of the brand new expansion, the Imperator Augustus Campaign Pack, which drops players into the outbreak of the great Roman civil war that gave rise to the first emperor. As Octavian, Marc Anthony and Lepidus clash for supremacy, how far will you go to ensure a lasting peace?
Key feature
Plan your conquest

of the known world in a massive sandbox turn-based campaign mode (supporting additional 2-player cooperative & competitive modes). Conspiracies, politics, intrigue, revolts, loyalty, honour, ambition, betrayal. Your decisions will write your own story.

Build vast armies

and take to the battlefield in real-time combat mode. Put your tactical skills to the test as you directly control tens of thousands of men clashing in epic land and sea battles.

Play for the glory of Rome

as one of three families or take command of a huge variety of rival civilisations ᄀᄚ each offers a notably different form of gameplay experience with hundreds of unique units from siege engines and heavy cavalry to steel-plated legionaries and barbarian berserkers.

See exotic ancient cities and colossal armies

rendered in incredible detail, as jaw-dropping battles unfold. Detailed camera perspectives allow you to see your men shout in victory or scream in pain on the frontline, while a new tactical cam allows a god?seye view of the carnage to better inform your strategic decisions.
System requirements
PC Minimum
OS: Windows 8 / 7 / Vista / XP
Processor: 2 GHz Intel Dual Core processor / 2.6 GHz Intel Single Core processor
Memory: 1GB RAM (XP), 2GB RAM (Vista / Windows 7, Windows 8)
Hard Drive: 30GB free hard disk space
Graphics: 512 MB DirectX 9.0c compatible graphics card (Shader Model 3)
DirectX?: 9.0c
Screen resolution: 1024x768 minimum
PC Recommended
OS: Windows 8 / 7 / Vista / XP
Processor: 2nd Generation Intel? Core i5 processor or greater
Memory: 2GB RAM (XP), 4GB RAM (Vista / Windows 7, Windows 8)
Hard Drive: 30GB free hard disk space
Graphics: 1024 MB DirectX 11 compatible graphics card
DirectX?: 11
Screen resolution: 1280x1024 minimum
Mac Minimum
Operating System: OS X 10.7.5
Processor: 1.7 GHz Intel Core i5
RAM: 4GB
Hard Drive: 25 GB
Video Card: 512 MB AMD Radeon HD 4850, NVidia GeForce 640 or Intel HD 4000
Screen Resolution: 1024 x 768
PC Recommended
Operating System: OS X 10.7.5 (or later)
Processor: 2nd Generation Intel Core i5 (or greater)
RAM: 8GB
Hard Drive: 25 GB
Video Card: 1 GB NVidia 750 (or better)
Screen Resolution 1920 x 1080
Unsupported graphics chipsets for Mac: NVidia GeForce 9 series, GeForce 300 series, GeForce Quadro series, AMD Radeon HD 4000, Radeon HD 2000 series.
? SEGA. The Creative Assembly, Total War, Total War: ROME and the Total War logo are trademarks or registered trademarks of The Creative Assembly Limited. SEGA and the SEGA logo are either registered trademarks or trademarks of SEGA Corporation. All rights reserved.