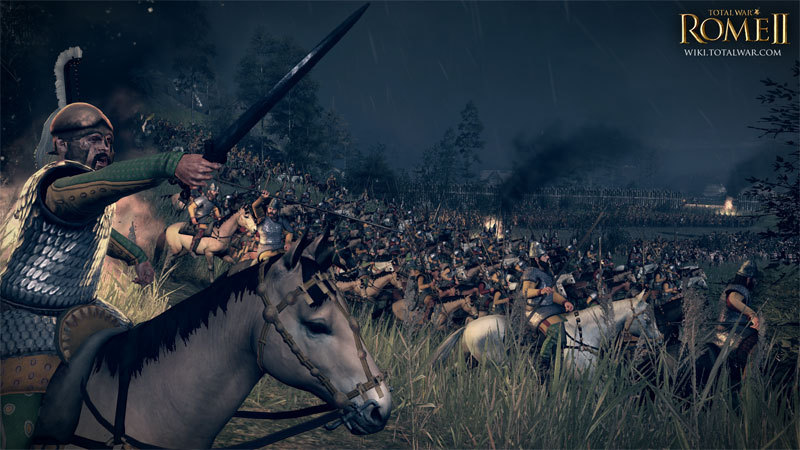 Total War: Rome II - Nomadic Tribes Culture Pack (DLC)
NOTICE: Requires the base game Total War: ROME II in order to play. Activation key must be used on a valid Steam account, requires internet connection.
ABOUT THE GAME
---
The Nomadic Tribes Culture Pack
adds a new playable culture comprising three new playable Factions to
Total War: ROME II,
for use in Single or Multiplayer Campaign modes and Custom and Multiplayer battles.
The Nomadic Tribes Culture Pack enables ROME II players to take on the ancient world as the ruthless Roxolani, the independent Massagetae and the proud Royal Scythians. Accomplished raiders and legendary horsemen, the Nomadic Tribes are poised to sweep from the steppes and strike at the soft, sedentary targets of more established empires.
Defined by their independence, their excellence on horseback and their ability to swiftly assemble large armies, The Nomadic Tribes bring an entirely new cultural flavour to ROME II.
KEY FEATURES
---
New Playable Factions
ᄀᄚ The Roxolani, Massagetae and Royal Scythians each offer a unique new way to experience the campaign, with their own rosters of powerful military units, distinct traits and play styles.
The Roxolani gain wealth from their skills as migrant traders, and as committed conquerors, fight harder when in enemy territory; the Royal Scythians are experts with the bow, and enjoy increased wealth through their high degree of craftsmanship; and the fierce independence of the Massagetae leads them to fight harder when defending their territory, while their expertise in animal husbandry means increased income from livestock.
New Cultural Traits
ᄀᄚ All Nomadic Tribes benefit from extra recruitment slots in their home provinces, enabling them to raise armies swiftly. They have also refined raiding and looting to an art-form, and their forces gather greater wealth through raiding than other factions.
New Cultural Objectives
ᄀᄚ The Nomadic Tribes have their own new set of military, economic and cultural victory conditions, as well as sharing a unique set of bonus objectives drawn from the history of The Steppes. Additionally, each faction will have to contend with its unique events and dilemmas.
New Military Tradition
ᄀᄚ The armies of the Nomadic Tribes can benefit from a unique new military tradition: Nomadic Horde. This tradition increases the movement range of the army, increases its unit morale when fighting in enemy territory and, commensurate with the tribes? heavy use of horse and rider, reduces the recruitment costs of cavalry units.
SYSTEM REQUIREMENTS
---
Windows:
Minimum:
OS: Windows 8 / 7 / Vista / XP
Processor: 2 GHz Intel Dual Core processor / 2.6 GHz Intel Single Core processor
Memory: 1GB RAM (XP), 2GB RAM (Vista / Windows 7, Windows 8)
Graphics: 512 MB DirectX 9.0c compatible graphics card (Shader Model 3)
DirectX?: 9.0c
Screen resolution: 1024x768 minimum
Recommended:
OS: Windows 8 / 7 / Vista / XP
Processor: 2nd Generation Intel? Core i5 processor or greater
Memory: 2GB RAM (XP), 4GB RAM (Vista / Windows 7, Windows 8)
Graphics: 1024 MB DirectX 11 compatible graphics card
DirectX?: 11
Screen resolution: 1280x1024 minimum
Mac:
Minimum:
Operating System: OS X 10.7.5
Processor: 1.7 GHz Intel Core i5
RAM: 4GB
Video Card: 512 MB AMD Radeon HD 4850, NVidia GeForce 640 or Intel HD 4000
Screen Resolution: 1024 x 768
Recommended:
Operating System: OS X 10.7.5 (or later)
Processor: 2nd Generation Intel Core i5 (or greater)
RAM: 8GB
Video Card: 1 GB NVidia 750 (or better)
Screen Resolution 1920 x 1080
Unsupported graphics chipsets for Mac: NVidia GeForce 9 series, GeForce 300 series, GeForce Quadro series, AMD Radeon HD 4000, Radeon HD 2000 series.
Additional Minimum System Requirement:
Note that the Unit Detail option in the graphics setting menu must be set to Medium or above in order for dismemberment effects to be seen. Blood effects will display at all settings.