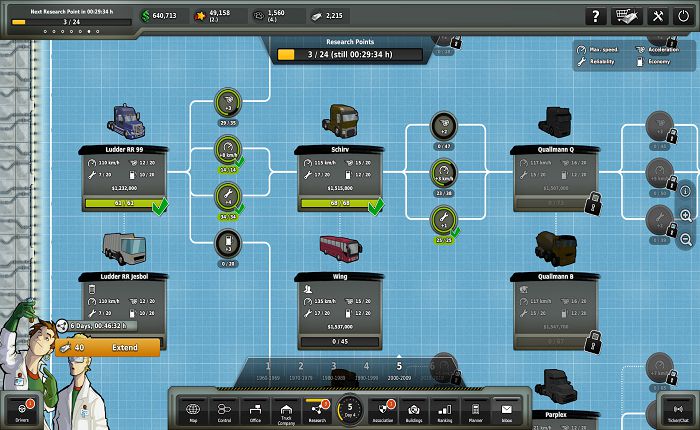 Truck Nation (PC)
About The Game
You're a seasoned trucker who has been exploited for years while working crazy hours and who has now been sacked. This did however give you strength to start your own trucking company. With a little luck you have been able to get hold of a cheap building and three rusty trucks. Now you have to stand your ground against your old employer and other trucking companies in a contested market. You, as the boss - and two of your old friends as drivers. Of course you also sit behind the wheel, because you need money fast, as you have foolishly made your initial investment on credit. And that needs to be paid back soon....

You soon realize that this task cannot be mastered by a group of three. In a world full of arrangements, espionage, smuggling and dog-eat-dog mentality, you can only survive if you get together with your friends. Together with them you can hit the road running and enjoy your revenge on your old boss more and more. Today you stir up the trash business, tomorrow you transport hot goods for a buddy of your money lender and the day after you take an elderly people's club on their annual trip with your bus. Your drivers are individualists - their number is ever-growing and they become crazier by the day. If you work with them for longer, they will stand by your side even beyond the end of the game round.

All in all one round in Truck Nation lasts for 12 weeks and if you want to win, you will need to control large parts of the map despite all the resistance you will face. Investments, bribes, damaging your rivals and leading large building projects will help you gain control of cities and industries.

If you are successful, however, your old company will take notice of you and put you to the "test". Are you corruptible and will you stab each other in the back? Because the most important thing for a trucker is that he can look at himself in the mirror in the morning. If in the end you treat your drivers the same way that you have been treated, you will no longer be one of them. Prove to the world that there is a different way of winning!