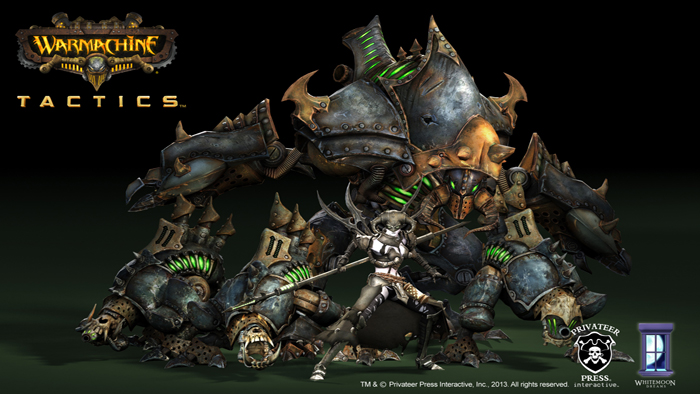 WARMACHINE: Tactics - Digital Deluxe Edition
In WARMACHINE, the very earth shakes during fierce confrontations where six-ton constructs of iron and steel slam into each other with the devastating force of a locomotive, where lead-spewing cannons chew through armor plating as easily as flesh, and where bold heroes set the battlefield ablaze with a tempest of arcane magic as they forge the fates of their unyielding nations in the fires of destruction.
Take control of an elite battle mage known as a warcaster and his army of unstoppable warjacks and deadly soldiers in this intense and aggressive turn-based tactical combat game set in the award-winning, steam-powered world of the Iron Kingdoms.
WARMACHINE: Tactics is a next-generation turn-based tactical game developed with the Unreal 4 engine. Cutting-edge visuals, an immersive world setting, and squad customization features offer a rich multiplayer experience along with an extensive single-player campaign that will appeal to fans of revered tactical games like X-Com: Enemy Unknown and The Valkyria Chronicles.
Learn more about the WARMACHINE: Tactics and the Iron Kingdoms at:
http://warmachinetactics.com
This Early Access build contains:
ONLINE MULTIPLAYER
• Four armies representing the four core factions of the Iron Kingdoms. Each army contains one warcaster, multiple warjacks, and multiple warrior units
• Multiplayer maps: Forest Ruins and Trenches At the Border
• New content being added weekly!
SINGLE PLAYER
• One single-player scenario that introduces new players to the game before diving into multiplayer.
New units, maps, and functionality will be continuously released during Early Access, so keep checking back to see what's new.
The full version of the game will contain:
• An epic single-player campaign featuring 21 missions and an engaging storyline that will immerse you in the world of the Iron Kingdoms.
• Three multiplayer maps.
• Four factions, each with two warcasters, four warjacks, and multiple warrior units.
• A point-based squad customization system that allows you to decide exactly what units and strategies you take into battle.
• A revolutionary unit coloring system offering nearly unlimited visual customization of your squad.
• Play-By-Mail functionality
• Hot Seat mode, allowing multiplayer on a single computer.
• Team up with or fight against computer controlled AI.
• Special game modes like Take and Hold, Teams and Onslaught.
• Online Ranking and Leaderboards
• Expand your experience with regular releases of new units and campaigns, available for purchase through the Steam store.
• Multiplayer maps will be released regularly, always for free!
EARLY ACCESS DELUXE EDITION
By purchasing the EARLY ACCESS DELUXE EDITION for WARMACHINE: Tactics, you'll not only be able to jump into the Beta now, but you'll receive the full version of the game upon release as well as 20 ADDITIONAL UNITS that can be added to your armies in the weeks and months following the game's release, including:
• Eight Mercenary Warrior Units
• Magnus the Traitor Mercenary Warcaster
• Three Mercenary Warjacks
• Four unique Character Warjacks [of the Apotheosis] — one for each of the core factions.
• Four massive Warcasters [of the Apotheosis] — one for each of the core factions.
Join the fight, now!