WildStar Deluxe Edition - EU (PC)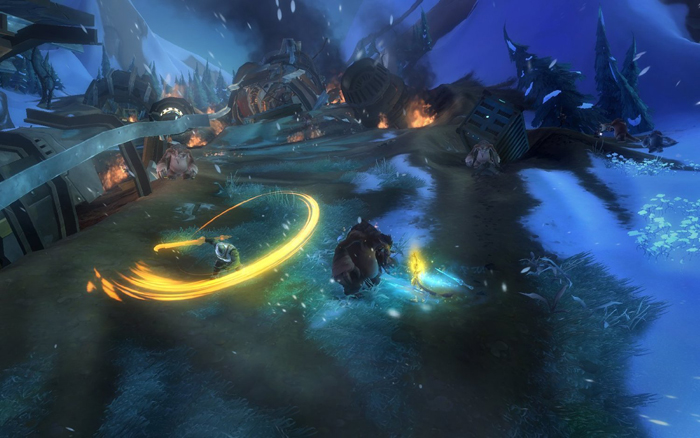 Contents of the WildStar Deluxe Edition-EU:
30 days of gametime
Guest Pass for 7 days of playtime
Special housing décor item
Hoverboard mount
Eldan costume
Eldan player title
Dye: Eldan colors
WildStar infuses amazing stylized art with the latest technology to create a stunning visual experience. Set on a wondrous alien world, WildStar delivers a wild and mysterious adventure among the ruins of an advanced civilization - allowing you to play the way you want to play while experiencing an unprecedented level of exploration and discovery!
Planet Nexus ain't for the faint of heart, so strap on your boots, charge your lasers, and sharpen your swords! Choose from one of many unique classes, using skill-based abilities and combat mechanics to defeat a stunning array of the most dangerous creatures and enemies in the galaxy. Looking for an even bigger challenge? Then jump into PvP battlegrounds, dungeons and epic raids, putting your combat skills to the ultimate test!
Nexus is one of the most mysterious and dangerous planets in the entire universe, and you just decided to make it your new home. On the plus side, there are ancient ruins, mystical forests and unexplored moons just waiting to be conquered! On the down side, most of those places are inhabited by cybernetically-enhanced monstrosities, frightening beasts and hostile alien races! The fun never ends!
Dive into the most visually stunning game in the history of the universe! With a completely unique and timeless art style, WildStar is infused with an unforgettable personality that is all its own. Chock full of super cool characters, awe-inspiring environments, and hair-raising boss monsters, WildStar smacks you with eyepopping visual variety at every turn. Now all you have to do is avoid becoming the galaxy's best-looking corpse!